Enroll at Murray State University
Welcome to Murray State
Congratulations — you're joining the Racer Family! Welcome to Murray State University. We can't wait to meet you. Set your goals high and dream big. We'll make it happen!


What's next?
Now that you've been admitted, let's make it official by enrolling at Murray State. Take a look at the checklist below and watch this quick video to get started. We're here every step of the way. Let us know if you need help with anything.
Contact us
Undergraduate Admissions
msu.admissions@murraystate.edu
270.809.3741 or 800.272.4678, ext. 2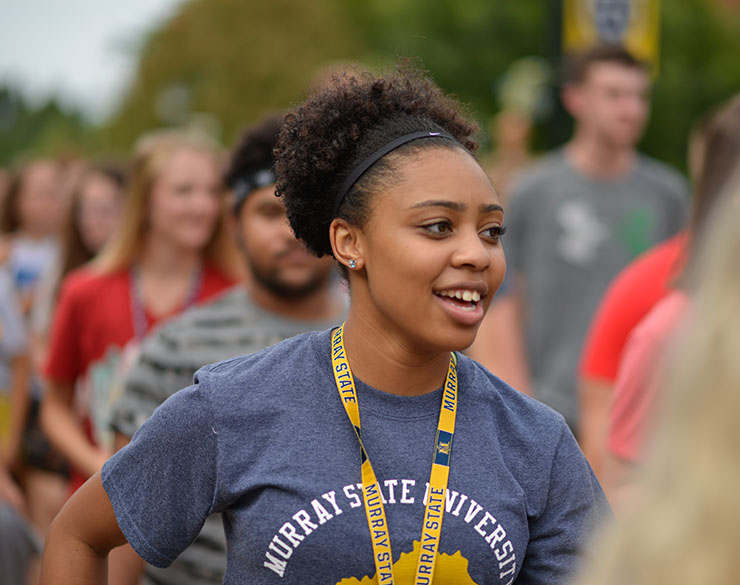 Steps to enroll
You're on your way to becoming a Racer - complete the steps below to officially enroll.
myGate - myGate is the website you'll use to schedule classes, check grades, pay bills and complete applications.
RacerMail - RacerMail is Murray State's Gmail service.
Now that you're admitted, it's time to get connected. You should have received an email from us with instructions for setting up your accounts and passwords for myGate and RacerMail. If you have already done this, you are ready to go.
If you have not set up your account passwords yet, you can log in to your application account.
Need Assistance?
Service Desk
270.809.2346
msu.servicedesk@murraystate.edu
The best way to learn about Murray State is to visit us in person or virtually. Tour our beautiful campus and connect with student tour guides to learn more about admissions, financial aid, housing, life at Murray State and so much more. Meet with professors in your future major and learn more about academic and career opportunities waiting for you at Murray State.
When you first set foot on campus and meet our students, faculty and staff, you'll know that Murray State is your home.
99% of freshman students received scholarships or financial aid. Over $115 million is awarded in financial aid and scholarships annually.
Application opens: September 1
College is a large investment of both time and money. That's why Murray State is committed to providing numerous financial opportunities, such as grants, loans and part-time employment. Apply for financial aid by completing the FAFSA (Free Application for Federal Student Aid).
Students should apply as soon as possible for priority review and awarding. Visit Financial Aid to learn more about the FAFSA and types of aid that may be available to you.
Application opens: October 1.
Murray State FAFSA code: 001977
Housing
Get the most out of your Racer experience by making memories on campus! Murray State's residence halls, just a short walk from the academic side of campus, Winslow Dining Hall, the Wellness Center and more, offer a number of perks, from game rooms to student lounges and kitchens, high-speed WiFi, free laundry and cable and much more.
Our Residential College system allows you to not only connect with peers living in your residence hall, but also with commuting students, faculty and staff who are also members of your residential college. On any given day, you can catch a game night, watch movies with your friends and compete in intramural athletics and academic tournaments, just to name a few. Your Residential College Head may also provide assistance with your academic needs.
Available Oct. 1
Apply via your myGate account
Dining
We've got you covered on dining, too. Whether you're sitting down for a meal with friends in Winslow, grabbing a bite to go from Waterfield Library or Business Express, or enjoying freshly-made sushi from Market '22, Racer Dining has you covered with classic favorites to healthy, vegetarian/vegan and allergen-free meals. New to campus are favorite restaurants including Einstein Bros. Bagels in Waterfield Library along with Starbucks, Steak 'n Shake and Chick-fil-A in the Curris Center! Are you hungry yet?
Admitted students for the upcoming year can experience all that campus has to offer during the annual Admitted Student Kickoff, which will take place in early 2022. The free event allows admitted Racers and their families to learn more about life at Murray State.
The next few years are going to be filled with new experiences and opportunities. Attending a Racer Nation Orientation session will ensure you're prepared to become an active member of the Racer family. Not only will you schedule your classes, but you will gain valuable knowledge while making new friends along the way. Multiple sessions are offered throughout the summer, so pick the one that works best for you! These sessions fill up quickly, so don't delay.
Note that both new freshman and new transfer students are required to attend and complete Racer Nation Orientation. Students who are enrolling in courses at a Murray State regional campus location or participating in a fully online program should contact their advisor for more information about Racer Nation Orientation options. New transfer students may also contact their academic advisor to schedule classes prior to their Racer Nation Orientation. Log in to your myGate account to find your academic advisor's contact information.
Register via your myGate account
Located in the Academics tab
Great Beginnings are on the horizon for you here at Murray State and the best way to begin your Racer journey! An annual tradition at Murray State, Great Beginnings gives all new students the opportunity to familiarize themselves with campus and the community, easing the transition to campus life. From Explore Murray to the Hypnotist (a campus favorite!), and going to a Gold Rush activity, students find themselves making new friends and getting to know campus better.
Commuter students and students living on campus will all have a Great Beginnings Leader who will help guide you through all the fun and educational events happening in the first few weeks of classes. We find it important to get involved when you get to campus, so start things with Great Beginnings!
Helpful Links