Parents and Families
Dear parents and family:
We understand
At Murray State University, we recognize that college is a huge decision. It's an investment in both time and money, and you want to make sure your son or daughter get the most out of their experience. That's why we believe college should be more than slideshows and lectures. Racers earn their degrees through real-world learning, internships and career networking opportunities that prepare them for success long after graduation.
Stay informed
Supporting their dreams — and yours
You have big dreams for your child's future, and we're here to help those dreams come true. You can depend on small class sizes, hands-on experiences and personalized attention from faculty and staff who will help your son or daughter every step of the way. Plus, you can count on our friendly campus environment to make your student feel at home from the moment they arrive on move-in day.
Come experience campus for yourself! Schedule a campus tour today.
"We looked at several different in-state and out-of-state colleges, and we compared tuition and fees and figured in room and board as well as the meal plans. We evaluated the campuses and business program with graduation rates and, when it was all said and done, Murray State came out on top."
Jim Hawkinson
Father of entrepreneurship major McKinley, From Carterville, Illinois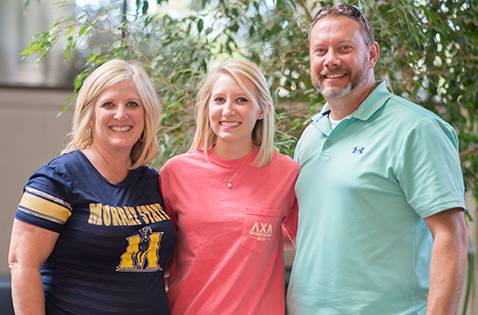 The Hawkinson Family