Resources
Help them get settled
Your son or daughter is about to embark on a whole new milestone and explore a whole new sense of independence. For some, that may come easy, while others may need help adjusting to college life.
We want to make the transition to college life as easy as possible for your student. That's why we provide all sorts of ways for them to become ingrained in college life here at Murray State.
Care packages – Want your student to know you're thinking about them? Racer Dining offers a variety of special care packages, from goody bags to birthday boxes, available for you to order online. We'll call your student when their care package is ready, and they can pick it up at Market '22.

Note:

Please order 48 hours in advance.
Residential halls – Living on campus helps students make friends and feel like they're truly a part of the campus community.
Residential colleges – Every student is placed in a residential college, which provides them with social activities and academic guidance.
Student organizations – No matter what your student loves, we have 150 student organizations to help them find their niche.
Student employment – Various departments throughout campus are always looking for motivated student workers. It's a great way for your son or daughter to learn new skills, earn money and make friends.
Be sure to sign up for our e-newsletter to stay up-to-date on all things Murray State University.
Download A New Chapter - Parent/Family Resource Guide (PDF)
"Murray State was the sixth college we had visited. We loved the family atmosphere and the attention we felt from the faculty... The comfort level we had when leaving our daughter six hours away was pretty amazing. Murray State is a premium school at an affordable cost."
Jay Jones
father of teaching english to speakers of other languages major Lauran, From Catlettsburg, Kentucky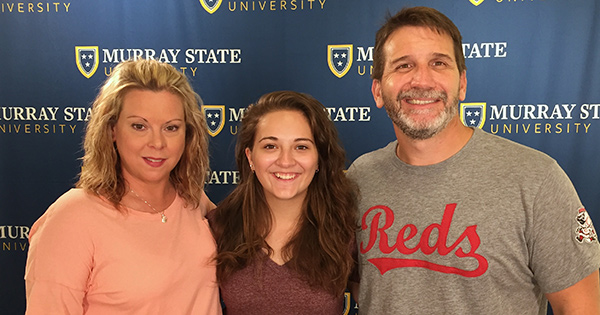 The Jones Family