Family events
Murray State has a long history of campus traditions. We invite you to join us for the events below, and find out everything that's happening on our campus calendar.
Orientation
Murray State's orientation is the beginning of every incoming student's college experience. Here, your student can register for classes, contact their academic advisor and learn more about transitioning to life at the University.
Great Beginnings
Each year, Great Beginnings helps incoming students get better acquainted with campus. Come meet other students and families, and get help with financial aid, meal plans and more. Plus, friendly faculty, staff and fellow students will be on hand at the residential halls to help you move in.
Mark your calendar: August 2023
Family Weekend
After students get settled in their new college home, Family Weekend gives you a chance to visit and enjoy fun activities together on campus.
Mark your calendar for Family Weekend: September 29-30, 2023

Racer One Stop
At the start of each fall and spring semester, Racer One Stop allows students to get all their questions answered in one spot. Located in the Stables within the Curris Center, Racer One Stop provides information about billing, financial aid, scholarships, registration, parking and on-campus housing.
All Campus Sing + Other Campus Traditions
At the yearly All Campus Sing event, various student groups show off their chops by singing, dancing and competing against each other for a good cause. It's one of many favorite campus traditions.
Mark your calendar: April 2024
Homecoming
Each year, the extended Racer family gathers together on Murray State's campus for celebratory Homecoming festivities, including the Homecoming parade, Tent City, the Homecoming football game and the crowning of the King and Queen.
Mark your calendar: October 14, 2023
"At first it was kind of hard to be so far away, but she loves Murray State so that makes me love it. Everyone's really nice and welcoming, and it feels like more of a family here."
Tammy Lawrence
mother of political science major, Tamdra, From Macon, Georgia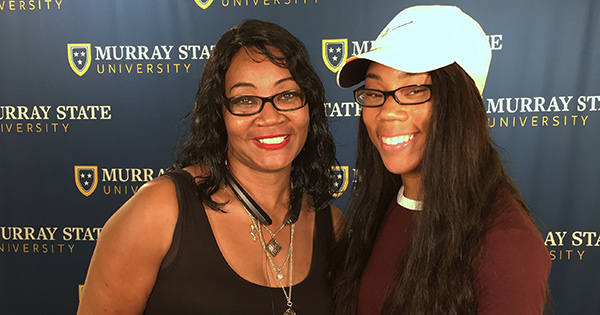 Tammy and Tamdra Lawrence