News From Murray State University
Murray State University launches redesigned website
By Shawn Touney | Dec 1, 2021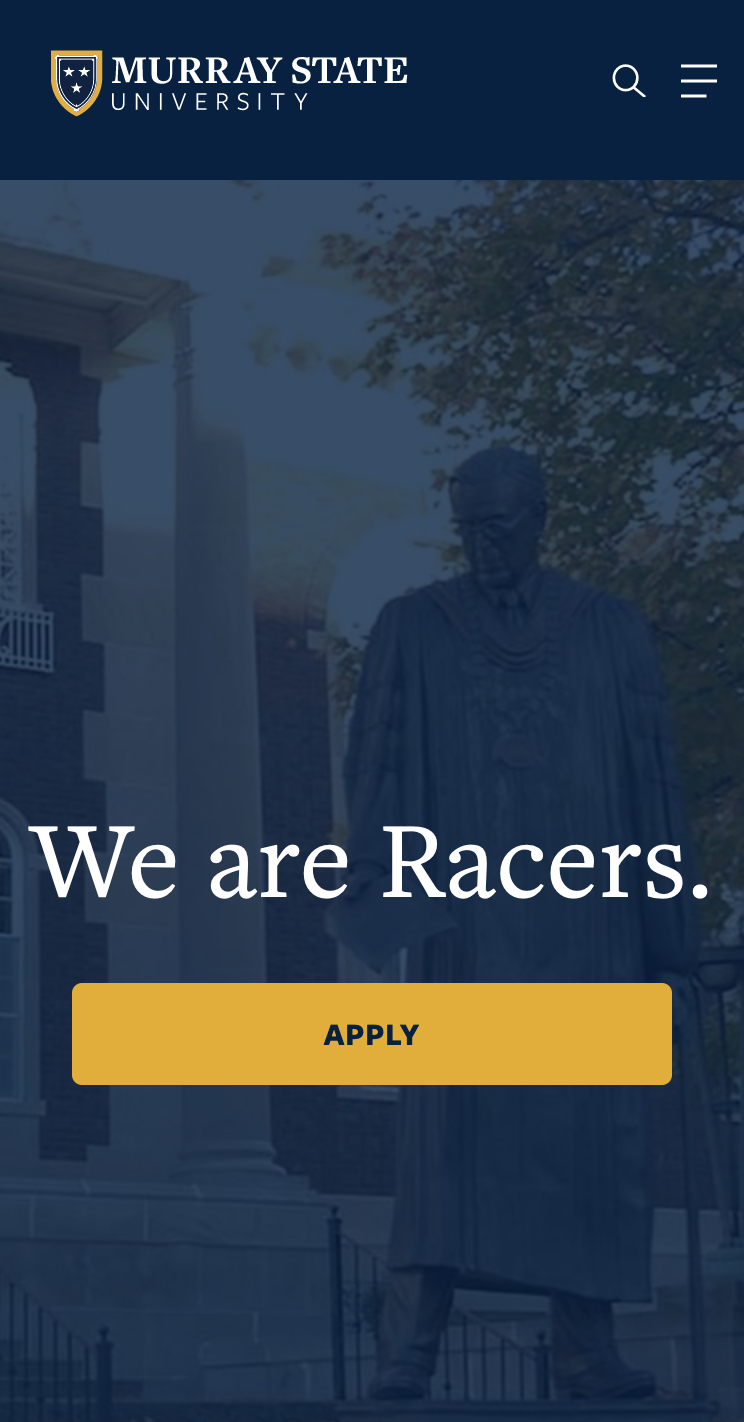 MURRAY, Ky. — Murray State University launched a redesigned website on Nov. 15, 2021. The new design was the result of a multi-year project that began in the fall of 2019. The project was led by the University's Department of Web Management in the Office of Branding, Marketing and Communication, in collaboration with Beacon Technologies, Inc. and Modern Campus.
The website enhancements at murraystate.edu encompass more than just a new look. Murray State's redesigned site also incorporates improvements to content, search engine optimization (SEO) and accessibility. The overarching goal of the project centered around a deeper and more personal connectivity with prospective students and families, current students, faculty, staff, alumni and supporters, while supporting the University's mission and brand.
"Murray State prides itself on providing a personal touch," said Web and Digital Advertising Manager Charley Allen-Dunn. "We are constantly looking for ways we can translate that to web. To achieve that, we partnered with Beacon to create content for 25 of our top landing pages and we are working to educate campus on how to write friendlier, more meaningful content."
The new design incorporates student and family testimonials and more layout options to feature videos and other digital media. The new homepage provides space to feature University rankings and accolades, a searchable resource for academic programs and the latest campus news stories.
"From an enrollment marketing standpoint in particular, having a website presence that reflects key characteristics and functions is extremely important for students and their families," Executive Director of Marketing and Communication Shawn Touney said. "Through this project led by Charley Allen-Dunn in our Department of Web Management, numerous significant enhancements have been made to the overall user experience."
Expandable navigation, quick access to search functions and improvements to backend efficiencies were implemented to create a more positive experience for mobile users. In the past year, 55 percent of new users visited the website on mobile devices, which marks a 19 percent increase over the past five years.
"Our last major redesign in 2015 made the website function on mobile," Allen-Dunn said. "This design is built for mobile. We changed the functionality of navigation and the overall design to enhance the mobile experience for mobile users which also modernizes the experience for desktop users."