Office of Recruitment
Welcome to Murray State
Our Office of Recruitment serves as your guide and support team as you navigate your way through the admissions process. Let us know how we can help you.
Special Events
Dessert Reception in St. Louis
Attention St. Louis area Racers - Join us for a Dessert Reception on January 27, 2022 at the Doubletree Westport from 5 to 7:30 p.m.
Are you interested in learning more about Murray State?
Come mingle with students, staff and local alumni as they share information about the Murray State experience. Learn more about the scholarship and financial aid process, student life and how to make a personal visit to campus. We hope to see you January 27!
When: January 27 from 5 to 7:30 p.m.
Location: Doubletree Westport
1973 Craigshire Dr.
St. Louis, MO 63146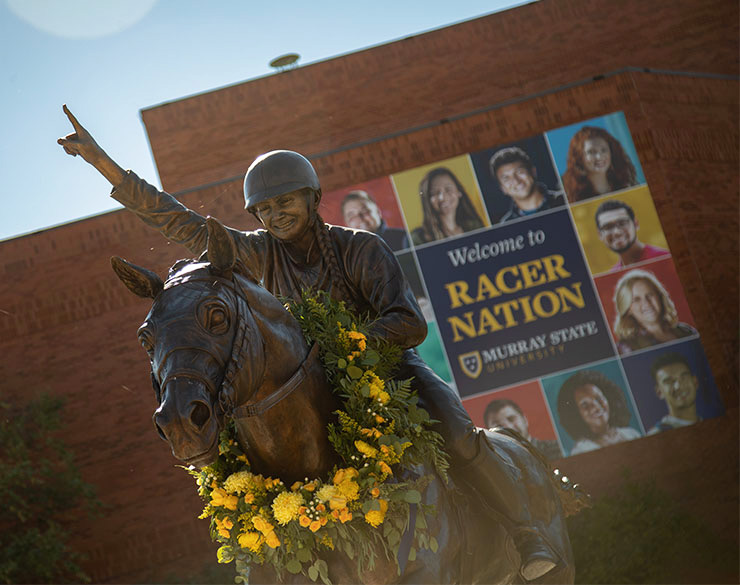 Admissions
Our admission counselors work in different geographic areas. Meet yours and find out what they like most about Murray State.
Information about academics and majors, costs, admission criteria, financial aid, scholarships, or applying.
New Student Programs
Registration opens in late February.
The college experience at Murray State begins with Racer Nation Orientation. All new incoming freshmen and transfer students are expected to attend one of the eight one-day sessions available. Orientation has been designed to assist you in developing an understanding about the transition you will make to your collegiate environment at Murray State and to enhance your success at Murray State. Attending orientation will be your earliest chance to register for fall classes.
2022 Registration opens in December 2021.
Usually scheduled for February.
Admitted Student Weekend is an opportunity for you and your family to interact with Murray State faculty, staff and current students. You will be able to participate in special tours of campus, attend unique lectures, meet with Student Financial Services, visit academic areas and get a glimpse of what it is like to be a Murray State student. You will also receive priority registration for Summer Orientation.
2021 Registration will open in the spring
The 101 Programs are premier extended orientation programs for first-year students. These programs are designed to aid incoming students in their transition from high school to college by developing a diverse social network of classmates, upperclassmen, faculty and staff members and encouraging their bond to Murray State through the introduction of campus culture and traditions.
Spring Orientation is an orientation program for all new Spring degree seeking students (transfer and freshman) designed to prepare you for that start of classes in the spring. Whether you're a freshman, transfer student, or parent, you'll find things to interest and excite you.
Contact Us
Give us a call at 1.800.272.4678 ext. 2 or email us at msu.recruitment@murraystate.edu

Mission Statement
The Murray State University Office of Recruitment is committed to the promoting of higher education, by serving as the liaison to all prospective students, families and support systems through the creation of personal relationships and adapting to all individual needs. We take pride in strengthening the overall Murray State experience through the fostering of open and honest communication.