Motorcycle, Scooter and Bicycle Permits
Motorcycle, Scooter and Moped permits
All motorcycles, scooters or mopeds must have a valid V-permit.
Bicycle Permits
You are not required to register your bicycle, however bicycle registration is available at no charge and can increase the likelihood of return if your bike is lost or stolen.

Bicycle registration does not expire. If you sell or trade your bicycle, contact Parking Services to void your permit.
Registering Your Bicycle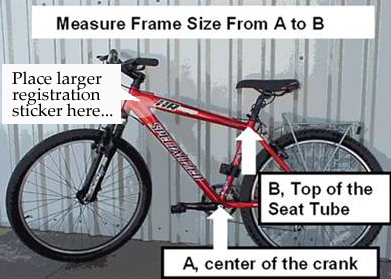 To complete the registration process, you will need to know:
Serial number: Usually located under bottom bracket of bike.

Frame size: Measure from center of the crank to top of the seat tube.

Wheel size: Usually listed on the bike tire.

Sticker placement: The larger sticker is to be placed on the longest bar of the bike frame.
If you have any difficulty finding this information, please bring your bike to the Murray State Police or Parking Services so our staff may assist you. Once registered, you will be issued a bike permit sticker to be placed on the longest bar of the bike frame.
Parking and Storage of Bicycles on Murray State Campus:
Only park at designated bike racks on campus.

If a bike rack is full, please go to another rack.

A U-lock combined with a thick, heavy chain is recommended.

Please do not risk damage to your bike by securing it improperly.

Never leave accessories or loose items on your bike.

Never secure a bike to a light pole, sign post, railing, stairwell, bench, tree, or other undesignated area
Lost or Stolen Bikes
If your bike is lost or stolen, please contact Murray State Police to file a police report.

You will be asked to provide your bicycle registration number, serial number and a description of your bike (make, model, size and color).

If you witness a bike theft or other crime in progress, contact the police by using the nearest blue emergency phone or use your cell phone and call 270.809.2222.
Abandoned and Improperly Parked Bicycle Abatement
A bicycle may be tagged as abandoned if found in the same location over an extended period of time (two weeks or more) with any combination of missing parts, cobweb covered, flat tire, and/or rusted chain.

Improperly parked bikes chained to benches, light poles, sign posts, railings, stairwells, and other undesignated areas may be tagged as well.

If a tagged bicycle is registered then an attempt will be made to contact the bike owner.

If the bike is not registered and/or the bike owner does not take corrective action then Murray State Police may impound the bike.

This abatement process is performed on an ongoing basis around campus.

Please register your bike so you can be notified in case it is tagged.
NOTE: The University is not responsible or liable in any way for lost, stolen, or damaged bicycles or bike accessories. The University is not responsible for the cost of locks, chains, other security devices, or any other item that may be damaged or destroyed as a result of impounding any bicycle. The University has no responsibility or liability to replace or make compensation for such items.