Board of Regents
Board members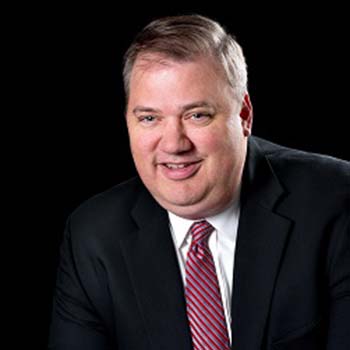 ABOUT ERIC CRIGLER
Eric F. Crigler, CFA, is a veteran of the financial services industry, having helped found firms in the fields of investment management, health care services, reinsurance and consumer finance. Mr. Crigler serves as Director of the Capital Markets Academy and is a Lecturer in Finance at Indiana University-Bloomington. He previously served as President and CEO of Mount Moriah Partners, a consumer financial services holding company, for five years and in the same capacity at Skyhawk Reinsurance, LLC, an automobile reinsurance firm. He founded Skyhawk Capital Management in 2005 and served as its Principal and Chief Investment Officer. Under his tenure the firm grew from $25 million to a peak of $300 million in assets under management. The company was named one of the "Top Ten Fastest Growing Firms" by Financial Times' Fundfire.com website and also among the "750 Largest Worldwide Institutional Money Managers" by Pensions and Investments magazine. Mr. Crigler was also a founding investor in Strategic Behavioral Health, a multistate behavioral health organization. For more than eight years prior, Mr. Crigler held senior level positions such as Equity Portfolio Manager and Equity Research Director at Strong Capital Management, a $45 billion money management firm based in Menomonee Falls, Wisconsin.
Mr. Crigler received a Master of Business Administration in finance and economics in 1996 from the Kelley School of Business at Indiana University. He has served on the Reese Fund Investment Board at Indiana University since 2000. He is a Chartered Financial Analyst (CFA) charter holder and earned the right to use the CFA designation in 1998.
Before starting his business career, Mr. Crigler was chosen in the tenth round of the 1990 National Football League Draft. He played for the Cincinnati Bengals in 1990-91, helping his team to the AFC Central Division championship. Later, he played in the World League of American Football for the Frankfurt Galaxy in Germany.
A native of Louisville, Kentucky, Mr. Crigler earned a Bachelor of Science degree in mathematics from Murray State University in 1990. While at Murray State, he was awarded a National Collegiate Athletic Association postgraduate scholarship and the Ohio Valley Conference Scholar-Athlete Award. After arriving at Murray State as a walk-on under College Football Hall of Fame Head Coach Frank Beamer, he was eventually named to the Associated Press Division I-AA All-America Team, the Academic All-America Team and was twice named to the All-Ohio Valley Conference Team. Mr. Crigler was inducted into the Murray State University Athletics Hall of Fame in 2021.
Mr. Crigler was appointed by Governor Matt Bevin and his term on the Murray State Board expires in 2022. He and his wife, the former Wege Rushing of Murray, have three children: Maggie, Abi and Lily.
"My wife and I met on campus and we both love Murray State University," says Mr. Crigler. "It has been an honor to serve as Chair of the Board of Regents during the year of our 100th anniversary. Over the last four years, the Board has hired a President, and supported the administration while we stabilized enrollment, managed through state pension issues, navigated a global pandemic, and realigned our athletic conference. Through it all, Murray State has provided a safe environment and a quality education for our students. What a privilege it has been to serve along with the other volunteers on the Board who give of their time and talents to help ensure our University is well-positioned for success in her next 100 years. Go Racers!"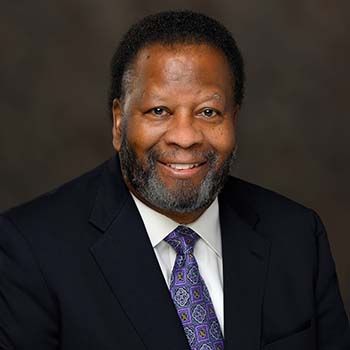 Dr. Don I. Tharpe
Vice Chair
ABOUT DR. DON I. THARPE
Dr. Don I. Tharpe's career in association management spanned more than 30 years. Tharpe served as Chief Operations Officer of the Certified Financial Planner Board of Standards, Inc. Dr. Tharpe also served as President & CEO of the Pan American Health and Education Foundation. Tharpe served as President & CEO of the Congressional Black Caucus Foundation. Prior to that appointment he was Executive Vice President and Chief Operating Officer of the Council on Foundations. Dr. Tharpe was also Executive Director of the Association of School Business Officials International (ASBO). For more than seven years prior to his work with ASBO, Tharpe held multiple senior positions at the American Vocational Association (AVA).
Prior to his career in association management Tharpe was employed at the Missouri State Department of Education.
In addition to Dr. Tharpe's extensive management background, he has consulted for a number of non-profit organizations, written numerous articles on association management and served on the board of several nonprofit organizations.
He is also a member of the American Society of Association Executives (ASAE) and a former vice chair of its board. As well, Tharpe is an ASAE Fellow.
Dr. Tharpe has served as a board member for The United Way of the Bluegrass in Lexington, KY and was a member of its finance committee. He also served as a member of the Kentucky Judicial Conduct Commission.
Tharpe is a graduate of Murray State University (KY) where he received both his undergraduate and graduate degrees. Dr. Tharpe received the 2005 Distinguished Alumnus Award from Murray State University as well as the 2018 African American Heritage Lifetime Achievement Award. Dr. Tharpe is currently the Vice Chair of Murray State University's Board of Regents and also chairs its audit and compliance committee. He earned his doctorate from Virginia Polytechnic & State University in Blacksburg, VA. His term on the Murray State Board expires in 2023.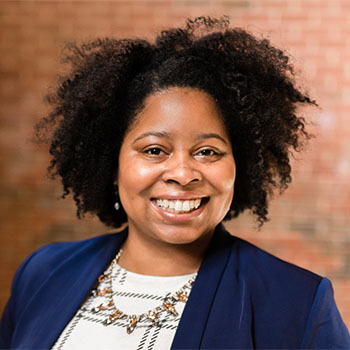 Dr. Jessica Evans
Staff Regent
ABOUT JESSICA EVANS
Dr. Jessica Evans is the Director of Assessment and Accreditation for the College of Education and Human Services at Murray State University in Murray, Kentucky. Dr. Evans received her EdD in Educational Psychology and Technology with a concentration in Higher Education Learning from The Chicago School of Professional Psychology. After completing her undergraduate studies at the University of Phoenix, Dr. Evans attended Murray State University where she received both a Master of Science degree in Organizational Communication and a Master of Science degree in Human Development and Leadership. She is a native of Memphis, Tennessee.
Dr. Evans currently serves on the Board of Directors for Amnesty International USA, the world's largest non-partisan grassroots human rights organization, and is a member of the Steering Committee for Human Rights Educators USA. Dr. Evans previously served as the Board Chair for the Western KY American Red Cross where she was awarded the Clara Barton Award for Meritorious Volunteer Leadership. Dr. Evans also served as the inaugural Vice Chair for the City of Murray Human Rights Commission.
Dr. Evans has served as a member of the Murray State University Staff Congress for eight years, holding the roles of Vice President and Treasurer during her tenure. She established the Kay R. Hays Staff Professional Development Fund to support Murray State staff members in pursuing professional and career development while supporting the mission of the University. In 2020, Dr. Evans was recognized by the Murray State University Alumni Association as a member of the inaugural class of Top 22 Under 40.
Dr. Evans was elected by her peers to fill the unexpired term of the late Phil Schooley. Her term on the Murray State Board of Regents expires in June 2024.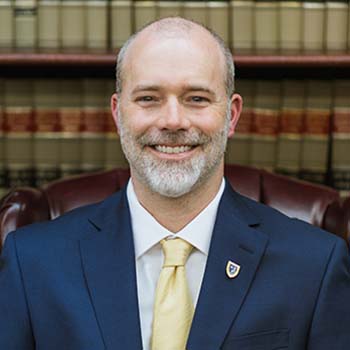 ABOUT ROBBIE FITCH
Dr. Robbie Fitch is a general Dentist, born and raised in Murray, KY. After attending Murray State University, he earned his Doctorate in Dental Medicine from the University of Louisville. He has been practicing in Murray since 2007 and is a member of both the American and Kentucky Dental Associations, as well as the Purchase Area Dental Society.
In addition to his dental practice, Dr. Fitch is the founder and principal luthier of the Hearthstone Guitar Co. Specializing in electric guitars, Dr. Fitch's instruments have been played by artists on The Tonight Show (twice), Saturday Night Live, and The Ellen DeGeneres Show. His guitars have also graced the stage multiple times at the Grand Ole Opry, Ryman Auditorium, The Troubadour, and two acts in one night at the 2019 Country Music Association Awards.
Dr. Fitch met his wife, Mary, in historic John W. Carr Hall (Carr Health Building) in a scuba class while they attended Murray State. They and their four future Racers reside in Murray.
Dr. Fitch was appointed by Governor Andy Beshear. His term on the Board of Regents expires in 2026.
About Virginia Gray
Virginia Gray is the Senior Manager of Government Relations for the Tennessee Valley Authority (TVA). Mrs. Gray has a Bachelor of Arts degree in Public Relations from Western Kentucky University.
Since being with TVA, she has influenced the creation of the Kentucky Caucus of TVA Legislators, assisted to pass bills lifting the moratorium on nuclear energy in Kentucky and distribution of more TVA In-Lieu of Tax monies going back to TVA counties for economic development. Previously a former state lobbyist, she represented a broad array of interests for JYB3 Group - including healthcare, mental heath, justice reform, corrections and transportation.
Virginia serves on the board of the Tennessee Valley Corridor, a network whose purpose is to sustain existing federal missions, compete for new federal investments and leverage those investments to grow more private sector job opportunities. She is the representing member for the First Congressional District of Kentucky. She is also Chairman of the Trilogy Foundation, a non-profit organization assisting residents at Trilogy Center for Women, a Recovery Kentucky program. As a signature fundraising event for the foundation, she created the Commissioner's Golf Classic and Farm to Table Dinner, partnering with the Kentucky agriculture and tourism cabinets, highlighting Kentucky Proud products and venues.
Virginia and her husband, Robert, live in Hopkinsville with their three children. Her term on the Board of Regents expires in 2024.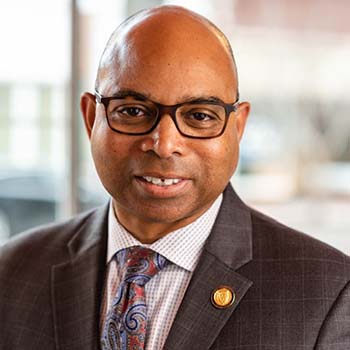 About Leon owens
Leon Owens of Paducah, Kentucky, is President of Swift & Staley, Incorporated. The firm is based in Paducah with 165 employees but has projects located in Ohio and Washington, D.C.. The small business government prime-contractor is 100 percent employee-owned and has been recognized as an exceptional facility support services company. Before being named President of Swift & Staley, Mr. Owens held positions of increased responsibility ranging from Human Resource Manager, Operations and Maintenance Manager, Corporate Development Manager and Chief Operating Officer. Prior to joining Swift & Staley, he worked 15 years as a Production Operator at the Paducah Gaseous Diffusion Plant.
Mr. Owens earned a bachelor's degree in Political Science from Eastern Illinois University and a master's degree in Business Administration from Murray State University. He serves as a Board member for the Paducah Area Chamber of Commerce and Paducah/McCracken County Joint Sewer Agency. Mr. Owens is Vice President of Portsmouth Mission Alliance, is a former member of the Paducah Citizens Advisory Board and is a former member of the presidential-appointed Advisory Board on Radiation and Worker Health. His term on the Murray State Board expires in 2025.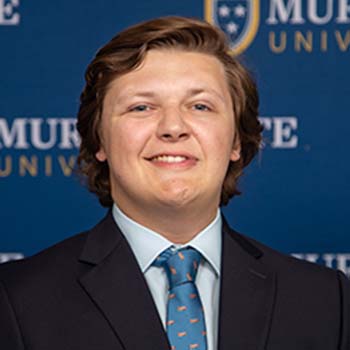 Ian Puckett
Student Regent
About Ian Puckett
Ian Puckett, native of Graves County, Kentucky, and a 2018 graduate of Graves County High School, is a Murray State University senior majoring in History. Ian currently serves as President of the Murray State University Student Government Association (SGA), where he previously served as the Government Relations Chair from January 2020 to August 2020 and Chief of Staff to former President Warren Norman from August 2020 to April 2021. He has been a brother of Sigma Phi Epsilon since the Fall of 2018, as well as Inter-Fraternity Council President for the 2019-20 calendar year, and continues to serve as Vice President. Ian has also served as a Racer Nation Orientation Counselor as a Freshman and as a Lead Counselor in his Sophomore year. Ian is currently serving a one-year term as Student Regent after being elected by his peers in March 2020 and he hopes to continue being a strong advocate for Murray State students.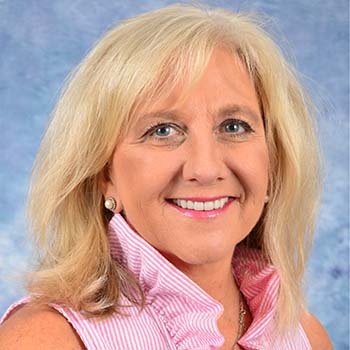 About Lisa Rudolph
Lisa Rudolph is the Co-owner of Rudolph's, Inc. and Co-owner of Rudolph Freight, Inc. in Murray, Kentucky. She received both a Bachelor of Science degree in Nursing from Murray State University as well as a Master of Science degree in Nursing Education. Mrs. Rudolph published her research "Registered Nurse Perceptions of Nursing Practice" in the publication, Kentucky Nurse, the official publication of the Kentucky Nurses Association. In addition to extensive clinical and administrative practice, her professional career has included serving as a preceptor for Murray State University students bridging education to practice. While on campus she was a member of Sigma Theta Tau nursing honor society and Alpha Gamma Delta social sorority for which she has served in an advisory capacity.
Mrs. Rudolph is dedicated to giving back by supporting students in the Commonwealth. She and her husband Robbie, a former Murray State student, founded the Four Rivers Foundation in 2010. The Foundation provides educational enhancing opportunities for 3,200 students in five western Kentucky districts. These districts include the counties of Ballard, Carlisle, Fulton and Hickman, as well as Fulton Independent, two area technical centers and one career and technical center. Since its inception, these districts have realized significant increases in student ACT scores, graduation rates and enrollment in post-secondary education. The Foundation is partnered with Murray State University and West Kentucky Community and Technical College. Previously Mrs. Rudolph served two terms on the board of trustees for the Baptist Seminary of Kentucky navigating through the accreditation process. Mrs. Rudolph was appointed by Governor Matt Bevin to fill the expired term of Harry Lee Waterfield II. Her term on the Murray State Board expires in June 2022.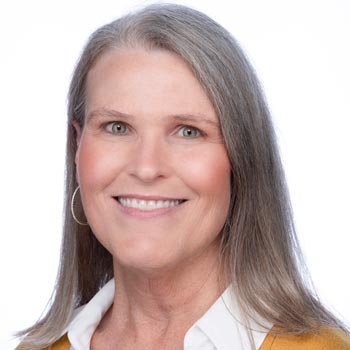 Dr. Melony Shemberger
Faculty Regent
About Dr. Melony Shemberger
Dr. Melony Shemberger is an Associate Professor of Journalism and Mass Communication at Murray State University in Murray, Kentucky. She earned a bachelor's degree from Western Kentucky University, with a double major in mass communication and history and government. She also earned a master's in mass communication from Murray State University; a master's in management from Austin Peay State University; and a doctorate in administration and supervision, with a concentration in higher education, from Tennessee State University.
Dr. Shemberger has published in several peer-reviewed publications, including Journalism History, Journalism and Mass Communication Educator and the Teaching Journalism and Mass Communication Journal. She also has several book chapters published and professional articles in guidebooks published by the PR News Press and has presented at several academic and professional conferences.
Most recently, Dr. Shemberger was selected for the Wiki Scholars Program to edit and write Wikipedia entries pertaining to women's suffrage. In 2017, she was a Scripps Howard Academic Leadership Academy Fellow at Louisiana State University. In 2014, she was named a Business Journalism Professors Seminar Fellow. One of 14 faculty members from across the nation, she completed the fellowship at the Walter Cronkite School of Journalism and Mass Communication at Arizona State University. At Murray State, she was a Provost Faculty Teaching Fellow, Interim Director of the Faculty Development Center in 2016 and an adjunct faculty member in the College of Education and Human Services in 2012-13. Since Summer 2017, she has taught in the Governor's Scholars Program, a five-week camp for top high school seniors in Kentucky. She is also a Level 1 Google Educator, and since 2014 has served as an at-large representative on the Murray State Faculty Senate and was Vice President in 2016-17.
Dr. Shemberger is a lifetime member of The Honor Society of Phi Kappa Phi, the top academic interdisciplinary honor society in the nation and on campus, where she serves as Chapter President. In addition, she was a Director from 2016-18 on the Society's national Board and was Chair of the Advisory Council for Phi Kappa Phi's Forum magazine. Honor society memberships also include the Sigma Xi Scientific Research Society, Omicron Delta Kappa leadership honor society and others. She is a member of the American Journalism Historians Association, the History Division of the Association for Education in Journalism and Mass Communication and the Education Writers Association.
In April 2019, Shemberger was elected by her peers for the faculty seat on the Murray State University Board of Regents. She will serve a three-year term, which expires in 2022.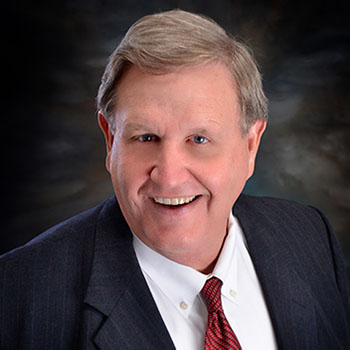 About Tom Waldrop
R. Thomas Waldrop, Jr. graduated cum laude from the University of Kentucky in 1977 with a degree in Agricultural Economics and immediately began his real estate career as he joined his father Ralph T. Waldrop, Sr., (B.S. MSU 1949) in the firm founded by the late H.C. Waldrop in 1922. The firm has evolved over the decades into a multi-disciplinary organization offering residential and commercial real estate brokerage, appraisal, management, leasing, development and consulting services across three states. He earned the coveted Member Appraisal Institute (MAI) designation from the Appraisal Institute in 1988 and is a Certified General Real Property appraiser in Kentucky and Tennessee.
From 2016-19, Tom served as a member of the Kentucky Real Estate Commission and has served terms as a Board officer of the West Kentucky Regional Multiple Listing (MLS) Service, helping 100 firms and 550 agents. Currently, Mr. Waldrop is a Managing Partner and Principal Broker at Trifecta Real Estate Services and focuses on all aspects of commercial real estate.
Currently, Tom serves as Chair of the Graves County Democratic Executive Committee and served as delegate to the 1st Congressional District and Kentucky State Democratic conventions in 2016 and 2021. After a 23-year tenure as a Mayfield City Council member, he serves as Chair of the City of Mayfield's Telecommunications Authority, officer of the Graves County Industrial Development Board and an officer of the Graves County Industrial Authority.
About his new position, Mr. Waldrop says, "It is very humbling for Governor Andy Beshear to entrust me with this vital position guiding the honored and admired traditions at Murray State University. I look forward to working with Regents, staff, faculty, students and the citizen stakeholders to promote the growth, mission and excellence of the University."
In his free time, Mr. Waldrop enjoys his 41-year career as a Kentucky High School Athletic Association (KHSAA) high school football official, past President and active member of the Purchase Players Community Theatre, active member of Mayfield First United Methodist Church where he serves as a member of the Board of Trustees, as Chair of Missions and Chair of the 2012, 2015, 2017 and 2019 Jamaica Missions Teams. Tom was the founding Chair of the W. H. Fuller YMCA Wellness Center in Mayfield.
Tom resides in Mayfield. His daughter, Clarke, graduated from Transylvania University in 2014 and is currently looking forward to a post-covid return to working and living her dream in New York City. Mr. Waldrop's term on the Board of Regents ends June 30, 2027.
Resources
Thursday, September 2, 2021 – Annual Retreat
Friday, September 3, 2021 – Summer Quarterly Board of Regents Meeting
Friday, December 3, 2021 – Fall Quarterly Board of Regents Meeting
Friday, January 7, 2022 - Special Board of Regents Meeting
Friday, March 11, 2022 – Winter Quarterly Board of Regents Meeting
Thursday, May 26, 2022 - Special Board of Regents Meeting (Finance Committee)
Friday, June 3, 2022 – Spring Quarterly Board of Regents Meeting