Distinguished Presidential Fellow
The Distinguished Presidential Fellow is an award presented to alumni, faculty, staff and friends of Murray State University for outstanding contributions, support and lifetime achievements.
Awardees
Dr. Robert Curtis Hughes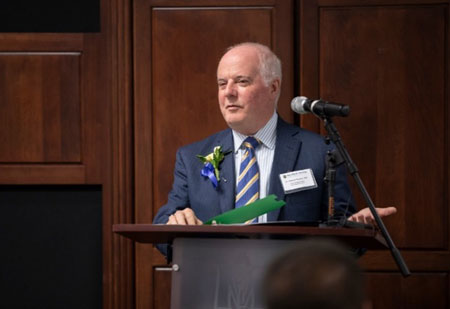 Robert Curtis Hughes, MD was named as a Murray State University Distinguished Presidential Fellow on April 21, 2022.
Dr. Hughes was awarded the Distinguished Presidential Fellow in recognition of lifetime contributions, unwavering commitment and support of Murray State University and its faculty, staff, students and greater community. He played an instrumental role in helping Murray State University (MSU) navigate through the worst of the COVID-19 pandemic and served as an invaluable member of the Coronavirus Work Group which was later renamed the Racer Restart Committee. Dr. Hughes served as the Chief Medical Officer for Murray State Health Services and played a key role in the University's pandemic response by helping administer vaccines to approximately 10,000 individuals between February and May 2021, with assistance provided by MSU School of Nursing and Health Professions faculty and students and the Murray-Calloway County Health Department. These initiatives were crucial to the University's ability to provide invaluable assistance to the region by hosting one of the state's first eight vaccination sites.
Mrs. Eunice J. Mills
Mrs. Mills and her late husband, Dr. Marvin D. Mills, have been instrumental in recruiting and mentoring Murray State students beginning in the mid 1970's, supporting students of color in furthering their education and leadership development through scholarships and funding for diversity and leadership programming, such as the Eunice J. Mills On-Track Program, the annual Diversity Achievement Awards, and the fall and spring Hitimu Celebration through the Emerging Scholars Institute.
Awarded Oct. 2, 2020