Center for Cybersecurity and Network Management
Degree in Cybersecurity
As our world becomes increasingly connected, and digital exchange continues to dominate communications, cyber threats have quickly changed from an occasional nuisance into a matter of national interest. As a result, the need for Cybersecurity has grown exponentially, with jobs far outpacing graduates. The Center for Cybersecurity and Network Management provides our students and community with the information and resources they need to prepare for Cybersecurity careers, to stay connected with Cybersecurity professionals, provide information on Cybersecurity events, and to keep pace with the evolving threat landscape.
The CNM Program receives oversight from a National Advisory Board. See the list of members.
Recognized by the National Security Agency as a Center for Academic Excellence in Cyber Defense (CAE-CD)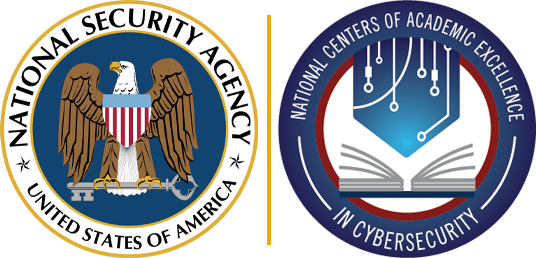 Learn more at the NSA's Centers of Academic Excellence webpage
Message from the Cybersecurity and Network Management Degree
Murray State University is now among 325 schools in the United States which have been designated by the NSA as a National Center of Academic Excellence in Cyber Defense (CAE-CD) for Cybersecurity. Institutions are designated and accredited based on their robust degree programs and close alignment to specific cybersecurity-related knowledge unit (KUs) validated by top subject matter experts in the field. The Department of Homeland Security (DHS) and National security Agency (NSA) jointly sponsor the CAE program and CAE-CD institutions receive formal recognition from the U.S. Government for participating in the program. The goal of the program is to reduce vulnerability in our national information infrastructure by promoting higher education and expertise in cyber defense. Cybersecurity is one of the fastest growing fields, and students attending schools with either the CAE-CDE designation are eligible to apply for grants and scholarships through either the Department of Defense Information Assurance Scholarship Program or CyberCorps Scholarship for Service program.
Earn your Cybersecurity and Network Management Degree
With the projected global shortfall of almost 2 million Cybersecurity professionals in 2021, it became increasingly critical to promote the development of new Cybersecurity degree programs. As cybersecurity matures as an interdisciplinary profession from the obvious computer science and information and telecommunication technology areas to business, psychology, criminal justice, political science, law, law enforcement, and more, additional capabilities and knowledge beyond IT skills are required to perform and meet the increasing need of high-quality cyber security professionals across multiple industries and economic sectors.
According to a survey, a large number of cyber security employees with a wide variety of skills will be needed to perform the 928 tasks, 614 knowledge areas, 359 Skills and 119 abilities associated with the 172 sample job titles described in the National Institute for Standards and Technology's (NIST) National Initiative for Cybersecurity Education (NICE) Cybersecurity Workforce Framework (NCWF). To increase the diversity and numbers of talent entering the cybersecurity career pipeline, some institutions attempt to meet this need by adding security content to existing courses, while others add new courses, and still others add entire degree programs, but unfortunately the only constant is the lack of consistency.
As CNM coordinator at MSU, I am very pleased that our adjustment of the BS Cybersecurity and Network Management (CNM) curriculum has been recognized as aligned with the NSA's requirements. The faculty of CNM have presented and published scholarly articles in cybersecurity at Security Conferences and Expo, our lectures and laboratories are state of art, and we have established technical and scientific collaborations with prominent companies such as Juniper, RedHat to utilize their Cybersecurity educational software and hardware tools to enhance our program to prepare young graduates for promising careers in the field. The intent is to encourage a more deliberate focus among new and existing efforts and create synergies between our CNM programs and these agencies.
The implementation of the strategies and actions shared will increase the quantity, quality, and diversity of students pursuing cybersecurity career pathways through:
Rigorous academic programs with an integrated, innovative cybersecurity educational approach

Learning experiences and high-quality teacher professional development

Information regarding available internship and scholarship prospects

Designing academic and career pathways in cybersecurity and exposure to career opportunities
Murray State University is excited to be a part of preparing entrants into this exciting and prospective new area.
Contact Us
Dr. Randall Joyce
CNM Coordinator, CAE-CD P.O.C
253X Industry and Technology