Honors Alumni Spotlight: Jill and Michael Boone
By Kala Allen-Dunn | Aug 30, 2022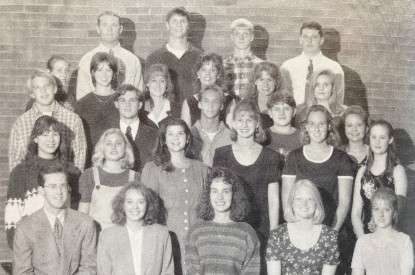 In the spirit of back-to-school season, here's a chance to meet some outstanding Honors College alumni who are also outstanding educators! We recently caught up with Jill (Highfil) Boone and Michael Boone by phone while they were driving their son, Jackson, to Baylor (it's no Murray State, but we'll let it slide this time!). The Boones are employees of the Marshall County school system and have made a difference in the lives of thousands of students.
Why did you choose Murray State?
Jill: I always knew I wanted to go to Murray. I originally wanted to be a math teacher, and the College of Education program is very strong. It was close enough to home but far enough away, too. My brother went to Murray and had a great experience, so when the time came to choose a college, it was the only school I looked at.
Michael: My Dad was a campus minister at Murray when I was in late elementary and early middle school. When I graduated from Marshall County, Murray State wasn't my only option, but it was high up there. I enrolled as pre-med and they had a good program. Ultimately, between the campus life and a nice scholarship, I chose Murray and didn't regret it for one minute.
What have you been up to since graduation?
Jill: I love my job as a high school counselor, which I've had since 2006. I work with students as they transition from high school into the military, workforce, or college. It is fun to see students go to Murray State, and I love having the chance to bring them to campus. My first senior class was the class of 2009, and there is nothing I'd rather do than talk to students and help them bridge to the next part of their journey. I also stay very busy being a mom of two children, one of whom we're driving to college today and one who is a junior at the high school. Both are very involved, and as a whole family we're focused on the local community.
Michael: My first job was also at Marshall. I've taught a lot of different things, mainly biology but also some chemistry and a little earth science. I'm currently teaching AP biology, and during my career I've had the privilege of teaching my own children. I also coach girls' soccer at the high school.
Jill: He won't tell you this himself, but he got 200 wins as a coach, and the program is closing in on 500 wins within the next year or two! The program is ranked in the top three of the state.
Michael: Aside from teaching and coaching, we stay actively involved in church and the community.
How has the Honors experience made a difference in your life?
Jill: The Honors Program was very influential. There were four Presidential Scholars when I was on campus, and we went through all four years together. We kept in touch after school and were in each others' weddings. The Honors Program gave us opportunities to travel together, and it was one of the highlights of my college career. I never would have gone abroad if the Honors Program did not have it as part of the curriculum. It was an eye-opening experience.
Michael: I appreciated the liberal arts element and the chance to read some of the texts that you only read in the Honors Program. I went to Germany for a semester, which would have never happened otherwise. It was a fantastic time, and it was life-changing.
Michael's Favorite Murray State Memory
"After Jill graduated, she was employed by Marshall County, but I was still in the Honors Program. We were in an Honors Program picture together when she was a senior and I was a freshman, but we didn't even know each other until after the fact. The Mississippi Room in the Curris Center is where I initially decided I wanted to talk to this girl. She was coaching the Marshall County academic team and I was helping proctor the tournament. We struck up a conversation about the senior thesis, I emailed her, it went from there . . . and then years later, I ended up proposing to her in the Mississippi Room!"
What advice would you give to current students?
Jill: Take advantage of the opportunities that are presented. Live by the idea that if you don't do it, you will regret it. Always take advantage of everything that is there for you, even the little things. Get to know your professors and the people that work in the Honors College. Lori Rogers was the first connection I had as a student. One semester my schedule was completely wrong, and Lori couldn't fix it herself, but she knew who could and she helped me out. Take the time to make those friendships and relationships.
Michael: David Earnest was one of my favorite connections. He led the trip to Germany and a handful of Honors students went with him. Like Jill said, college offers so many opportunities, and the number we had 25 years ago probably pales in comparison to today. There is no reason you can't be actively involved. Step out of your comfort zone. Be open to opportunities that might be presented to you, even if they aren't in the norm of what you feel is right for you at that particular time.
Any parting thoughts?
Jill: We were very blessed in our time at Murray. I am so grateful for the people who came before us and made those opportunities available, and I am so glad to see that the program has really grown. It is going in a great direction, and we are proud to be a part of it.