Honors Community
The Honors College is about more than academics. It's about growing the whole student, personally as well as intellectually. We bring you so many opportunities to have fun, get involved and meet likeminded people who will become lifelong friends.
Honors Living Learning Community
The Honors Living Learning Community (LLC) is located in six wings of the brand-new Franklin Residential College and is reserved just for Honors students.
Why Live In The LLC?
Convenience: Attend Honors seminars right in your residential hall! Many will be held in the classroom on the first floor of Franklin.
Friendships: Get to know other students in the commons area, which is open to all members of the Honors College.
Guidance: Make the most of your college experience with the help of Honors Residential Advisors and the Honors LLC Program Coordinator. They'll work with student leaders and Honors faculty to help you blend academics with residential, social and service life.
"The Honors College community is so strong. Even after graduation, I keep in close touch with so many of the fellow Honors graduates and staff. Being around such high achieving people naturally pushed me to be better and no doubt has helped me be able to get to where I am today."
David Schmoll
Alumni, General Manager, O'Fallon Hoots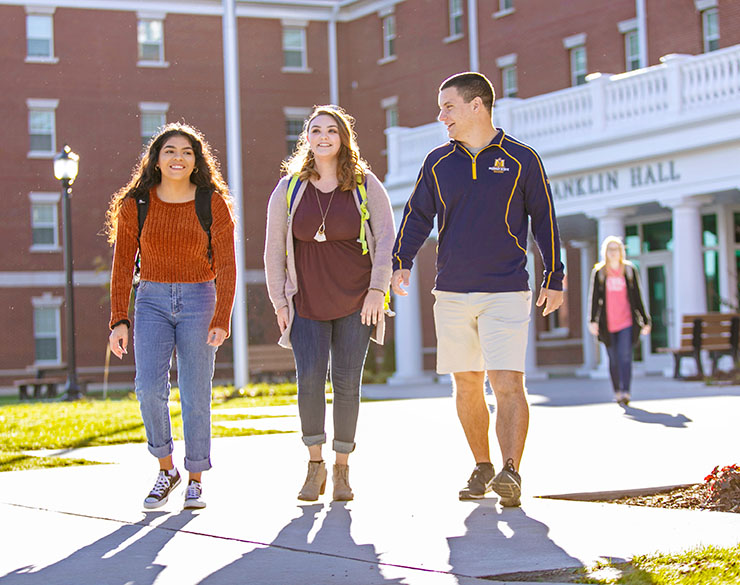 Honors Student Council
The Honors Student Council is a representative body of ten elected students from each class. The council is made up of elected positions — president, vice president, treasurer, secretary and sergeant-at-arms — who run weekly meetings, set council policies and guide activities. The council has committees for social activities, philanthropy and community service, athletics, fundraising, public relations, experiential learning and committee chairs who are appointed by the HSC president.
The council also organizes extracurricular activities that are student-led, student-organized and open to any Honors students who want to participate.
Intramural teams in a variety of sports.
Service projects that range from volunteering at the Main Street Youth Center to working at the local animal shelter.
Adventure outings featuring trail rides, spelunking in regional caves and hiking.
Two philanthropy fundraising events organized for student-chosen, non-profit organizations.
Social events like Super Bowl parties, game nights, trivia, and movie nights.
Honors team for All Campus Sing, a song-and-dance competition that's been a popular student event for over 65 years!