Alumni Spotlight: Mallory Wooldridge
Mar 3, 2023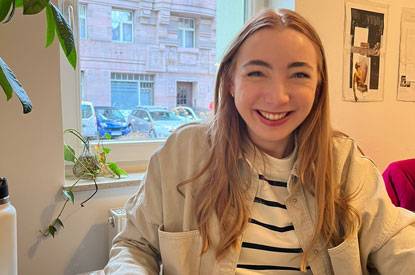 Mallory Wooldridge is an Honors College alumna living an amazing life! She caught us up on all on the details in this letter from Germany. Meet Mallory!
I was born and raised in Murray and went on to study at MSU, graduating in May 2022 with a Bachelor's in Spanish, a Bachelor's in history, and a certificate in German. During college I was involved in several organizations, including Alpha Delta Pi, Phi Alpha Theta, and founded the MSU chapter of the Food Recovery Network.
My sophomore year at Murray State I studied abroad in Regensburg, Germany, for a semester, and it was a truly transformational experience. Because of my time abroad, I shifted my research project to study the East German secret police (the Stasi) in collaboration with Dr. David Pizzo. I began to study the German language. I began friendships in Germany I still cherish. Living in a new culture also forced a level of self-reflection. I unearthed new interests of mine and began to take seriously my own dreams that had previously felt too far out of reach – living abroad, for example. When I returned to the US I was in a post-study abroad high, a period of flourishment and self discovery. And then the pandemic happened. Like most people, I was devastated. I applied to nine separate study abroad programs after Regensburg that would all eventually be canceled due to COVID, or, as was the case at the end of my undergrad, because of the war in Ukraine.
Despite the setbacks, I was adamant that I would go abroad again. I had the Fulbright program in the back of my mind since sophomore year when I returned from Germany and attended a workshop for interested students hosted by the Honors College. Carole Inman and Dominique Suiter from the Honors College were both pivotal in turning my goals into reality. My senior year I enrolled in a new class designed to provide assistance to students applying for prestigious postgraduate programs. I was intimidated by the prospect of applying to the Fulbright, but the Honors College staff helped turn my passions and experiences into a coherent and compelling story (special thanks to Dr. Jeff Osborne for reading and commenting on as many drafts of my application essays as I would turn into him).
After being notified that I was selected as a 2022-2023 Fulbright English Teaching Assistant in Germany, I wanted to take advantage of every opportunity to fully integrate into German culture. Following my graduation in May, I moved to Heidelberg to study the German language at the University of Heidelberg. I was delighted – and relieved – to find that Germany was as beautiful and magical as I remembered it to be. There are, of course, always a number of headaches associated with living abroad (namely, the never-ending bureaucracy), but I had never felt as alive as I did during my time in Heidelberg. I met students from all over the world. I took hours of intensive German classes in the mornings and early afternoons, would break for Currywurst at lunch, and would later muse about Mark Twain's own adventures in Heidelberg in the evenings alongside new friends, walking the idyllic Philosophers' Trail. I had revived my craving for adventure and newness that had nearly disappeared during the pandemic. I was living in one of the most beautiful cities in the world, studying at one of the oldest universities in the world, and my life felt limitless. I could be anything I wanted, and I had so many passionate and brilliant people supporting me from all over the globe.
Moving to Nuremberg after my studies in Heidelberg meant more of a 'return to reality,' but I still have to pinch myself that I'm living the life I am. I currently work in two different German schools (a Realschule and a Gymnasium) as an English Teaching Assistant. I have found that my students are not that different from those in the US – kids are kids, after all. Mainly, they are curious. They are inquisitive and want to know what life in America is like. For so many of them, their perception of the United States is shaped entirely by history books and TV shows. I have thoroughly enjoyed the opportunity to provide my students a more nuanced understanding of the United States as a Fulbright ETA.
I'm not usually one to give advice – there are hardly any truths applicable to all people, everywhere. As George Orwell instructed in his Politics and the English Language, it is better to reject advice from a stranger than do "anything outright barbarous." But if you are in the business of listening to strangers or find yourself needing some direction, I highly encourage time abroad. You will learn things about yourself and other humans more quickly than in possibly any other setting. Even better if you can find a group like the Honors College or Murray State's Education Abroad Office to help you do it.