Honors Alumni Spotlight: Kristen Tinch
By Kala Allen-Dunn | Nov 15, 2022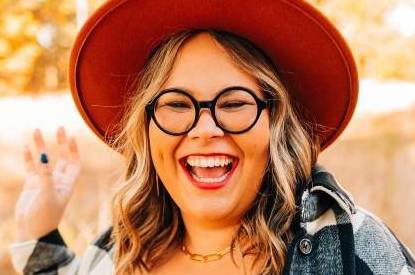 Let's celebrate the conclusion of the fall semester by meeting an Honors College alumna who is making a big difference in public education! Kristen Tinch is a 2013 graduate of Murray State University whose outstanding work as an educator and as an administrator has bettered the lives of thousands of Kentuckians through improved literacy instruction in public schools statewide. Meet Kristen!
Why did you choose Murray State?
I attended Commonwealth Honors Academy in summer 2007 and felt the sense of community and belonging I had been seeking for many years as a student. CHA embodied and still embodies a spirit of inquiry, inclusion, creativity, and activism, and I wanted to seek that out in a smaller university setting. I really do attribute CHA with helping me dream more about what my college life could look like—new friends, research opportunities, worldwide travel, and participation in the arts.
Tell me a little about your educational background.
I graduated from Murray State in 2013 with a BA in English Education and a BA in Spanish Education. I have a Masters of Arts in Education in Literacy (WKU, 2020) where I learned about the science of reading and worked in the WKU Literacy Clinic providing intervention to struggling elementary readers. This was impactful since I am a high school teacher who had never taught someone to read! I also got to complete a thesis on culturally responsive and interdisciplinary literacy instruction in KY high schools. I'm almost finished with a MA in English Literature (WKU, 2023)! I have loved this degree and am completing my capstone project on pedagogical implications for teaching immigrant narratives in KY high schools. I am interested in a PhD in Literacy, Language, and Culture to engage in more research and teaching, but I also love working to improve literacy statewide and collaborating with other states and their initiatives.
What have you been up to since graduation?
I was a public high school teacher for 9 years. I taught both Spanish and English and got to continue doing a lot of what I loved as a college student: exploring new cultures, traveling abroad with students, serving my community, reading literature, and learning more about K-12 reading and writing instruction. In April 2022, I transitioned to working for the Kentucky Department of Education as an Academic Program Consultant in Secondary Reading and Writing. In this job, I read research and build networks to support the implementation of the state literacy standards in grades 6-12 across Kentucky. Ultimately, my goal is to improve reading and writing instruction in KY public schools. I get to represent KY in national literacy initiatives and networks, which has given me an opportunity to learn more about our nation's challenges with reading. I loved working as a classroom teacher, but I've also benefited from looking at education from a government and policy perspective in addition to the local classroom perspective. The work I get to do in Frankfort and across KY supports districts and schools in increasing the literacy skills essential for individual success, the workforce, and democracy in general.
How has the Honors experience made a difference in your life?
I always praise the Honors College for interdisciplinary curriculum and complex (perhaps, heavy?) reading load. I have fond memories of studying the intersections of the disciplines in HON 251 with Dr. Jeff Osborne. He built the course around the various philosophies and readings on friendship. I remember very clearly thinking, "I don't think I'm a very good friend" and making changes to become a less selfish, more supportive friend. I also loved Dr. Claire Fuller's approach to Honors Seminar in Science, a course that gave me an opportunity as a student in the humanities to explore scientific research in a hands on environment. She empowered me to let my inquisitiveness fuel the way I view problems. I also remember reading The Heart of Darkness, a canonical postcolonial novel, in Dr. David Pizzo's World Civilizations course. This prompted me to think about how the story of colonialism is told in film and literature and how it affects everything in our culture, including English/language arts education, the field I've devoted my life to! Overall, I had such vibrant experiences as a learner and hope my work as an educator is recreating those same rich experiences for KY students.
What is your favorite Murray State memory?
I loved playing the saxophone in Racer Band. Racer Band is a great example of an organization that works and plays hard, and I cherish my memories at Stewart Stadium or playing in the homecoming parade with people I still talk to almost every day. I also loved working as a copyeditor at The Murray State News. I cannot tell you the hours I spent laughing in my cubicle there with lifelong friends.
What advice would you give current students?
Find opportunities that expand your knowledge and experiences in unexpected ways. Even though I did research on and have committed my life to adolescent literacy education, my life and learning were so enriched by activities like Racer Band, The News, playing intramural sports, study abroad, giving campus tours, and serving as a conversation partner to international students. I feel like I said, "Yes!" to almost every opportunity that came my way (sometimes wise, sometimes not), but I also met so many wonderful people and learned so many lifelong skills.