Student Spotlight: Maggie Mae Drew
By Kala Allen-Dunn | Aug 28, 2023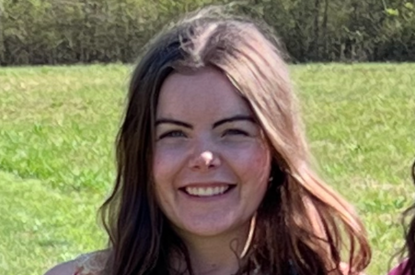 There's nothing more exciting than the first few weeks of college, especially for a bright first-year Honors student like Maggie Mae Drew! She has big dreams for her future and is putting in the hard work needed to make them a reality. She's already busy with a full class load, two jobs, and lots of hobbies, but she kindly took the time to answer a few questions and share her first impressions of Murray State. Meet Maggie Mae!
Tell us a little about yourself!
I am from Murray, Kentucky, and I am one of four sisters! I am currently a student worker in the MSU Honors Office, as well as a bookseller at Bolin Books. I have been playing the piano since I was four years old, and if you can't find me on campus I'm probably at home baking!

If you've declared a major, what are you majoring in? Do you have a dream job?
I am majoring in Spanish Translation & Interpretation, and I am also working on a minor in International Relations. I hope to one day become an interpreter so that I have the opportunity to give back to my community by helping businesses that employ guest workers.

Why did you choose Murray State?
I chose Murray State because it is just close enough to home that it allows me to be near my family while also living independently. Additionally, I am very interested in studying abroad and Murray State has nearly unlimited opportunities for education outside of the U.S.

Chances are good you'll study abroad during your time at Murray State. Is there any particular place you'd like to go?
I think that when I study abroad that I would like to visit Costa Rica. MSU has recently begun partnering with a university there, and I would love to be able to spend up to a semester in a whole new university in a whole new country! I think the experience would be greatly beneficial to my command of the Spanish language, as well as culturally and academically enriching.

What are your first impressions of the Honors College in particular, and of Murray State in general?
Murray State is a place of community! No matter where I go, there is always someone to say hi to. Everyone is incredibly friendly, and I never go a whole day without receiving a compliment and a smile. MSU is the kind of place where everyone is on your side, and I can always count on my peers and professors to look out for me!

Any parting thoughts to share with our alumni or with your fellow students?
I would like to thank alumni who financially support and advocate for MSU for making it possible for people like me to earn scholarships that make higher education attainable! I would also like to thank older MSU students for being so welcoming to my freshman classmates and me, and for making my summer campus job and first few days in class the very best that they could possibly have been.