Student Spotlight: Britney Buckner
Mar 3, 2023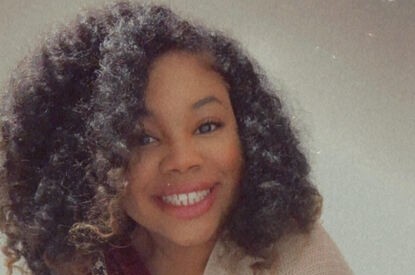 Britney Buckner is an outstanding Honors student from Hopkinsville, Ky., who plans to change lives through her future career as a middle school teacher! As we approach the midpoint of the spring semester at Murray State, Britney kindly took a break from her studies to tell us about her Honors experience.
What is your major, and how did you decide on your field of study?
I am currently a sophomore majoring in Middle School Education. I chose my major because I have always enjoyed school, however, I saw a lack of teachers who looked like me. I decided to become an educator because of the inspiration and motivation I could provide to students not only who look like me, but the next generation in this country- as a whole.
Why did you choose Murray State?
I chose Murray State because of the proximity to my hometown as well as the opportunity for an intimate learning experience with small class sizes and the ability to challenge myself academically through the Honors College. Another key reason for choosing Murray State was the University beginning as a teachers' college, which showed its dedication to education and producing quality educators- even 100 years later!
Where did you choose to study abroad, and what was it like? Or, if you haven't studied abroad yet, where would you like to go and why?
I hope to student teach in Belize to have the experience of diverse learning conditions and gain knowledge of teaching styles without technology to incorporate in my own classroom through exposure to cultural differences in education and social life.
What have been your favorite Honors classes so far, and what did you like about them?
The Honors Seminars in Communication and Music have become my favorite seminars thus far. This is because each professor makes the lessons taught student-centered and cultivates an engaging learning environment. Specifically, in Honors Communication, our last speech assignment was to draw one of our peers' names out of a bowl and write a 5-minute speech on a positive quality you have noticed they possessed throughout the semester. To me, the last speech will always be ingrained in my college experience because the professor acknowledged public speaking can be tough in front of peers, however, despite the many faults each student has within themselves in the presentation given throughout the semester there is a positive that can be noticed. In Honors Music, the professor took a different approach to music than expected. When I first registered for the class, I was under the impression that Honors Music would encompass studying various classical composers and operas, because of the academic esteem associated. This assumption was wrong. In the seminar each week covered a new topic ranging from The Violins of Hope with special guest of Jay Grimes- from UNC, Music and Numbers in Indian Carnatic Music, and various other topics with the ultimate project allowing the student to pick any topic in music to present 10 minutes on- which let each person's personality shine through. I did my presentation on the evolution of R&B, but presentations varied in topics such as discussing the Hurdy Gurdy, and Dolly Parton versus Loretta Lynn.
Any parting thoughts?
The Honors College has made my experience as a first-generation student more enjoyable because of the community found within the faculty and students by providing the support I need to be successful and pushing me towards thinking of my future after graduation.