Student Spotlight: Hannah Reynolds
May 19, 2023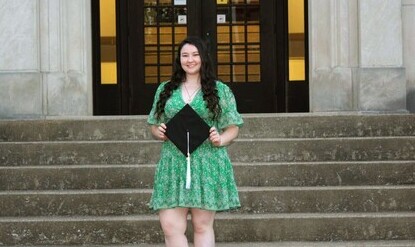 Hi Hannah! Tell us a little about yourself.
I am from Louisville, Kentucky. I majored in Political Science, and minored in Economics. My favorite hobby is to make something new, whether that be a craft or a new recipe.

Why did you choose Murray State?
I learned about Murray State through family members that came here, but, ultimately, I chose Murray State because I attended the Commonwealth Honors Academy before my senior year of high school. During this time, I took two college courses and stayed in the dorms for three weeks. It was an amazing experience that made me grow to love the campus and the community.

Where did you study abroad, and what was it like?
I originally wanted to travel to Greece and take a Political Science course on a winter trip. Unfortunately, I was not able to study abroad because of Covid, shutdowns, and travel restrictions. This was a frustrating time for everyone, but the University and Honors College tried to make the best out of a tough situation. I was able to fulfill the requirement by making a research presentation; I learned a lot through this process, and I am very thankful for the support I received from the Honors College.
What's your favorite memory from your time in the Honors College?
In general, I have enjoyed being part of the Honors community, forming these friendships, and being around people I know will go on to great things. I appreciate the opportunities that the Honors College set up to help us make these connections, in particular, the Eat, Talk, Think series where students and professors discuss current topics in a casual academic setting.

What was your favorite Honors class, and what did you like about it?
My favorite Honors class was HON 262, Honors Seminar in Mathematics. I really enjoyed this class because it was a dive into the history of mathematical theories, the philosophers who helped create the theories, and understanding how they came to their conclusions. It was very interesting and answered so many questions we had about the "why" behind how math works.

As you cross the bridge from student to alumna, any wisdom to impart?
The advice I would give students is to not be intimidated to use the academic resources that the University provides, such as professors' office hours and the library. First, professors have office hours in order to help you and answer questions, and topics can be easier to understand when getting individual help. Secondly, the library has great resources, such as individual study rooms, online inter-library loans, and even board games checkout options. All of these tools have been very helpful for me the past two years, and I wish I started using them earlier.