Dunker's Challenge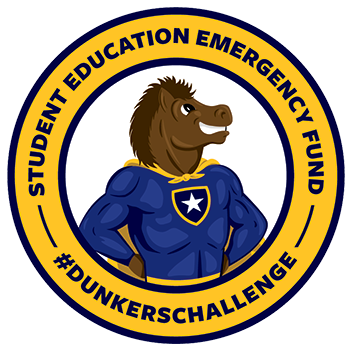 Helping students
The Dunker's Challenge Student Education Emergency Fund was established in 2018 to assist Murray State University students who encounter emergency or catastrophic events that could prevent them from either continuing their education at Murray State or who live on campus and require emergency housing/dining over a semester or holiday break.
Award process
Dunker's Challenge scholarships are paid directly to a Murray State student's account to offset any balances pertaining to tuition, housing, dining, or fees allowing the student to direct personal finances to those unexpected emergencies that could keep them from returning to or finishing their degree at Murray State University.
Hundreds of students, alumni and friends of Murray State University have made gifts to help students stay in college and continue to pursue a degree. Awards are given out as funds are available - your gift today will be immediately available to help a student in need.
Eligibility
Students finding themselves financially unable to meet the costs of their Murray State education are encouraged to contact the office of Student Engagement and Success. To be eligible for the Dunker's Challenge Student Education Emergency Scholarship, students must have a current and completed scholarship application on file with the University.
The Dunker's Challenge Student Education Emergency Fund is a University-wide initiative and coordinated between the Murray State University Foundation and the offices of Student Affairs, Student Engagement and Success, Financial Aid and University Advancement.
Contact information
Dr. Don Robertson
Vice President of Student Affairs
Peggy Whaley
Director of Student Engagement and Success