Endowments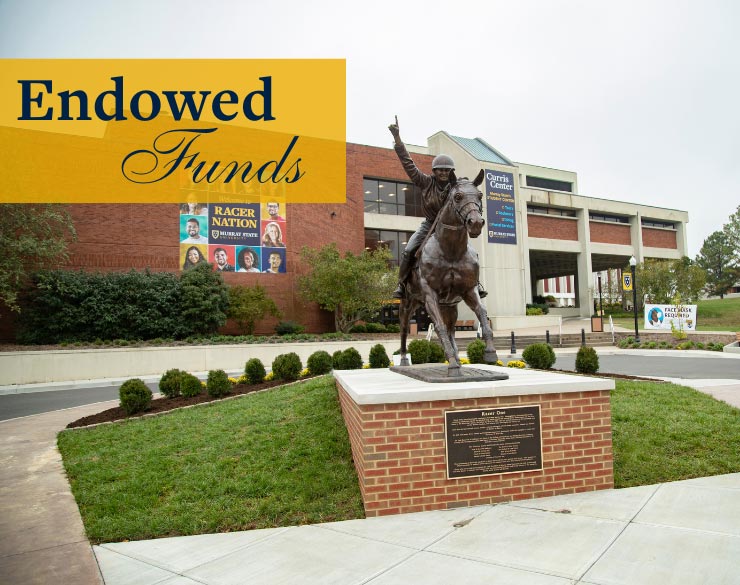 Endowments
Endowments are funds that provide permanent impact.
Endowment fund earnings are designated for purposes including:
Student scholarships
Fellowships or faculty professorships
Student internship support
Education abroad opportunities
Research projects
Professional speaker series and more
Endowment funds ensure the stability and quality of our University for generations to come. Endowments are held and managed by the Murray State University Foundation, Inc., and require a minimum
gift of $25,000 payable over five years. Your endowment fund can benefit a school or college or specify a department or program.
We deeply value your interest in considering this investment with the University and we are committed to working with you to ensure that your endowed fund generates your intended philanthropic impact for Murray State University and our students. For more information, contact the office of development today at 270.809.3001 or 1.877.282.0033 or email msu.giving@murraystate.edu
Growing your Endowment Fund
Once established, your endowment fund will be included in the investment pool owned and managed by the Murray State University Foundation, Inc. and annual earnings will fund the mission of your established fund. Growing your endowment fund increases your impact overtime and is easily done by making annual gifts and designating them to the fund's principal balance.
Learn more about growing your endowment fund
Contact Us
Learn more about establishing an endowment by contacting Dr. Tina Bernot.