Course Development
Bringing your course online may seem like a daunting task. There is certainly a learning curve associated with learning new technology and organizing your course in a way that is suitable for online instruction. Let us help you break it down!
Online course implementation check lists
Scheduling and stipends
If your course already exists in the course bulletin as a face-to-face course, ask your department to add the course to the schedule as a WEB course. If you are developing a brand new online course, it will need to go through Academic Council. Instructors who bring a course online are eligible to receive a development stipend. Payment information for those teaching as part of their overload or as and adjunct can be found on the Provost's website for instructors.
Using Canvas
Canvas is Murray State University's Learning Management system. Additional learning platforms that ensure authentication of students may be used. Grades should be kept exclusively in Canvas.
Canvas Commons is a repository that allows instructors to export and import quizzes, assignments, modules and courses. This feature is now embedded into your Canvas panel on the left side of the interface. See the below screenshot for where to locate the Canvas Commons icon and the interface that will appear after you click on it. Whenever colleagues want to see an example of something you have in your online courses, you simply can share the item to Commons. If you need ideas, you now can search for them in Commons. It is easy to use.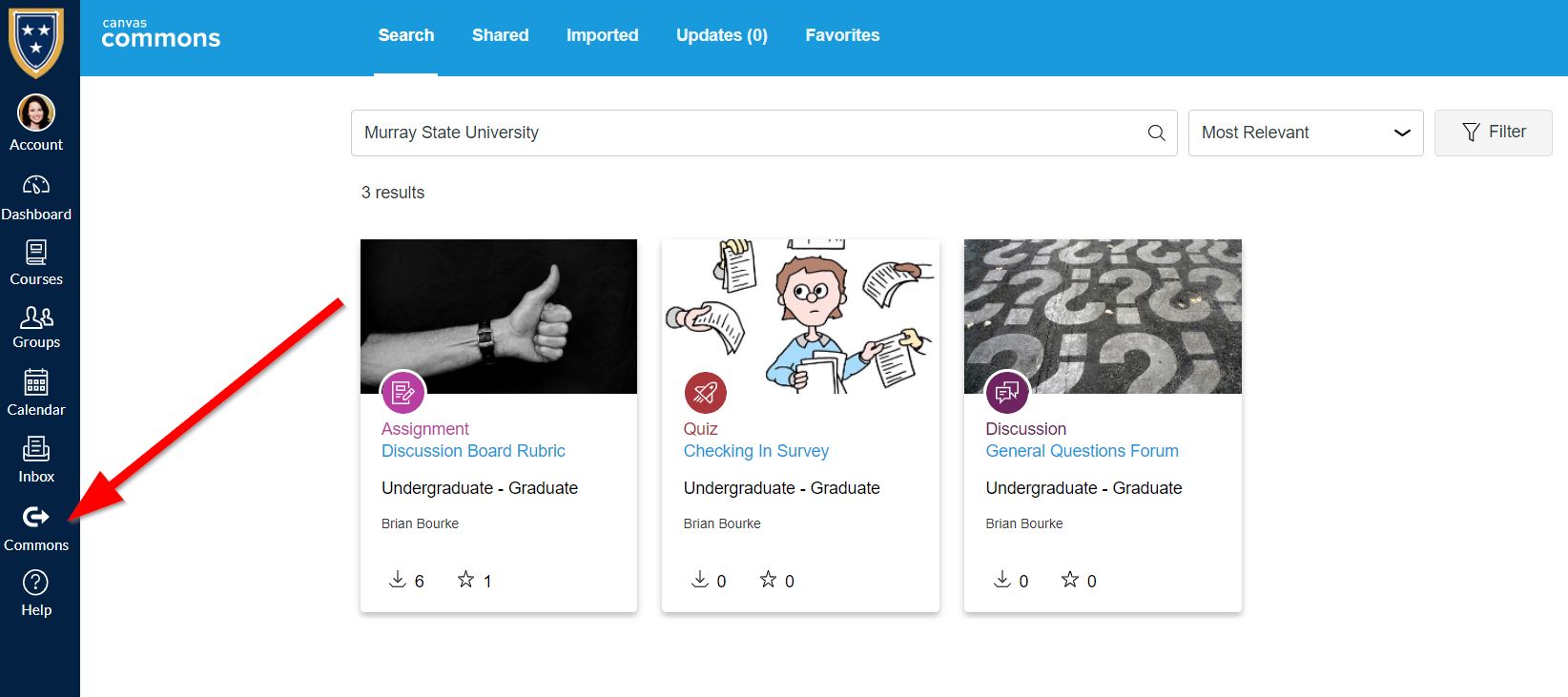 Want to meet one-on-one?
Remember, the Faculty Development Centeris always available to sit down with you as you set up your online course. You can also contact one of your colleagues in the Online Champions group. We are here to help!
Bringing your course online
The design of your course can impact the online learning experience for both you and your students. Students need a well organized, structured course. Thoughtful and intentional planning are important when bringing your course online.
Plan your online course
Organizing your content in Canvas
Content and pedagogy considerations
Before publishing your course
Online course implementation checklists
Would you like faculty members of the Online Champions group or the Faculty Development Center to review your course? E-mail msu.online@murraystate.edu for more information.