Master of Science in Economics
NOTE: The Master of Science in Economics program is not taking applications at this time, but may again in the future. If you have questions, please contact program director Dr. Simone Silva at ssilva@murraystate.edu. Thank you for your interest in the program. Please also consider the Master Science of Economic Development program which is currently taking applications.
Students in this program can either complete a traditional M.S. degree in Economics or can concentrate on completing a Finance option. The degree is designed to assist students who are interested in entering a variety of Ph.D. programs as well as entering the job market directly after finishing the program. Recent graduates have completed Ph.D. programs at school such as Vanderbilt, Texas A&M, and George Mason. Our graduates who went directly into the workforce are working as financial analysts (many have passed the first part of the CFA exam). Still others are working in banks such as the Paducah Bank, public and private firms such as the United Parcel Service, and in various jobs overseas.
In order to succeed in this program, students will need a good undergraduate background in Calculus, Statistics and Economics. It is not unusual that entering students are advised to take a few undergraduate classes when they begin their studies in the M.S. in Economics program. Many of the students selecting the Finance option study for the first and second exams leading to the CFA designation.
Graduate Programs Tuition and Fees
Requirements for Admission
Applicants must meet the Murray State University requirements and have a minimum total score on the Internet-based TOEFL of 76. Additional information about unconditional and conditional admission is following.
Unconditional
Admission into the M.S. in economics program is open to persons with (1) an acceptable undergraduate grade point average (normally 2.75 on a 4.00 scale), and (2) an acceptable score on the Graduate Management Admission Test (GMAT) or on the Graduate Record Examination (GRE) (normally at least 50th percentile on the quantitative portion and 10th percentile on the verbal section), and (3) an undergraduate minor in economics or its equivalent.
The applicant's overall record, including undergraduate training, experience, and GMAT or GRE score, will be evaluated by the department graduate coordinator to determine the prospective student's suitability for graduate work in economics.
Conditional
Admission into the M.S. in economics program may be granted to an individual not qualifying for unconditional admission if the individual demonstrates the potential to succeed. A conditional student may be admitted to full standing after completion of one semester (nine hours) of satisfactory work including prerequisites, with the recommendation of the M.S. graduate coordinator.
Master of Science in Economics
ECO 630 Macroeconomic Theory — 3 hrs
(With a minimum grade of B)

ECO 631 Microeconomic Theory — 3 hrs
(With a minimum grade of B)

ECO 680 Quantitative Methods of Economics and Business — 3 hrs

ECO 685 Econometrics — 3 hrs or ECO 690 Forecasting for Business and Government — 3 hrs

ECO electives, 600 level — 9 hrs

Approved electives, 600 level — 9 hrs
(No more than one elective, 3 hrs, may be taken in any one of the following disciplines: accounting, computer and information systems, management, marketing, or office systems.)
ECO 630 Macroeconomic Theory — 3 hrs
(With a minimum grade of B)

ECO 631 Microeconomic Theory — 3 hrs
(With a minimum grade of B)

ECO 680 Quantitative Methods of Economics and Business — 3 hrs

ECO 685 Econometrics — 3 hrs or ECO 690 Forecasting for Business and Government — 3 hrs

ECO 698 and ECO 699 Thesis — 6 hrs
(With an oral exam)

ECO electives, 600 level — 3 hrs

Approved electives, 600 level — 9 hrs
Master of Science in Economics/Finance Concentration
ECO 630 Macroeconomic Theory — 3 hrs
(With a minimum grade of B)

ECO 631 Microeconomic Theory — 3 hrs
(With a minimum grade of B)

ECO 680 Quantitative Methods of Economics and Business — 3 hrs

ECO 685 Econometrics — 3 hrs or ECO 690 Forecasting for Business and Government — 3 hrs

ECO electives, 600 level — 6 hrs

Approved FIN electives, 600 level — 12 hrs
ECO 630 Macroeconomic Theory — 3 hrs
(With a minimum grade of B)

ECO 631 Microeconomic Theory — 3 hrs
(With a minimum grade of B)

ECO 680 Quantitative Methods of Economics and Business — 3 hrs

ECO 685 Econometrics — 3 hrs or ECO 690 Forecasting for Business and Government — 3 hrs

ECO 698 and ECO 699 Thesis — 6 hrs (With an oral exam)

Approved FIN electives, 600 level — 12 hrs
Contact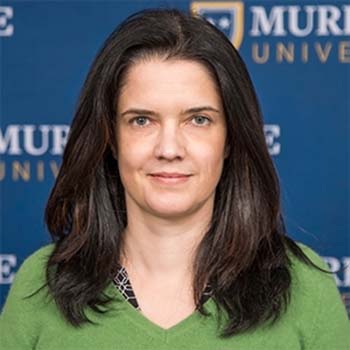 Dr. Simone Silva
Director
Economics and Finance