MARC Facilities
MARC is located on the fourth floor of Blackburn Science Building on the campus of Murray State University. The facility includes a classroom, conference room, map, image and digital data libraries as well as faculty, staff, student and administrative offices. The Archaeological Services Laboratory joined MARC in 2009. The merger allows us to fill a unique niche in regional cultural resource management.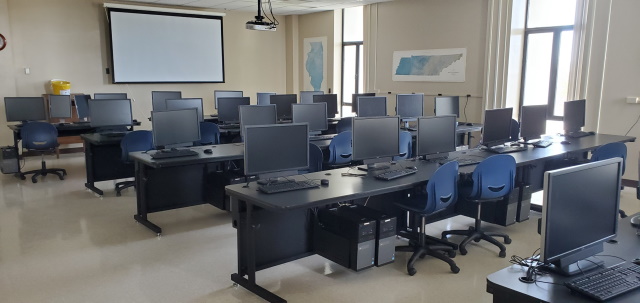 The MARC classroom is equipped with 30 Dell desktop computers, a SMART Sympodium and projection system for seminars, workshops and formal classes. Extensive collections of imagery include aerial photography for Kentucky, Landsat MSS, TM, ETM, MODIS, AVIRIS, RDACS, TMS, TIMS, IKONOS, DOQQs, DRGs, DLGs, DEMs, TIGER and census data are also available.
The MARC research environment consists of several Dell PowerEdge servers, large- and small-format color scanners and a Canon iPF815 large-format plotter. MARC also has available a Trimble Pathfinder ProXR and a Trimble Geo 7, both GPS devices allowing real-time positioning with sub-meter accuracy. A Topcon GTS229 electronic total station provides centimeter accuracy. In addition, an Analytical Spectral Devices FieldSpec FR field portable spectroradiometer is available to gather spectra for research projects.
Geophysical survey equipment includes a GEM Systems GSM-19 gradiometer and a TerraSIRch SIR-3000 ground penetrating radar unit. Recently, Archaeology has added a soil resistivity meter.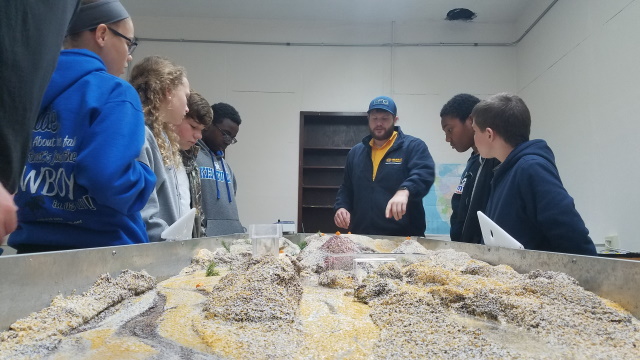 Members of the Jesse D. Jones College of Science, Engineering and Technology (JCSET), the Watershed Studies Institute (WSI), Department of Chemistry, Department of Biology, and the Department of Earth and Environmental Sciences, have endeavored to create a Terrain Modeling Laboratory (TML). The TML currently includes real "sandboxes" and an EmRiver Em3 geomodel stream table.
In January 2017, an Augmented Reality Sandbox was constructed. Using design recommendations and software developed by Oliver Kreylos at UC-Davis, our augmented reality sandbox has been explored by hundreds of Kentucky K-12 students, plus our own Murray State University faculty, staff, and students.
MARC supports some of the latest in imaging technologies. A DJI Phantom IV drone outfitted with a Sentera® NDVI crop sensor supports the Murray State University School of Agriculture and their associated drone program. Our Velodyne LiDAR puck augments our Archaeological Services Laboratory in mapping archaeological sites.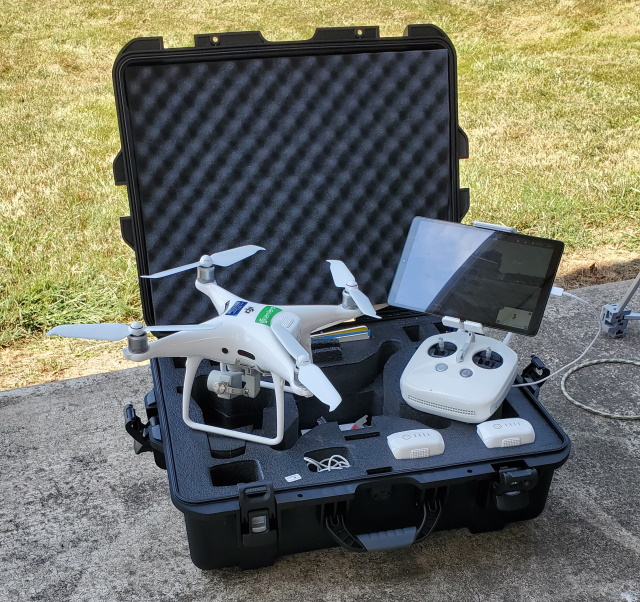 MARC is the Esri Site License software distributor and license manager for Murray State GIS products. Software available for image processing and GIS analysis includes all Esri ArcGIS products. For image processing, ERDAS Imagine and ENVI are available.