MARC History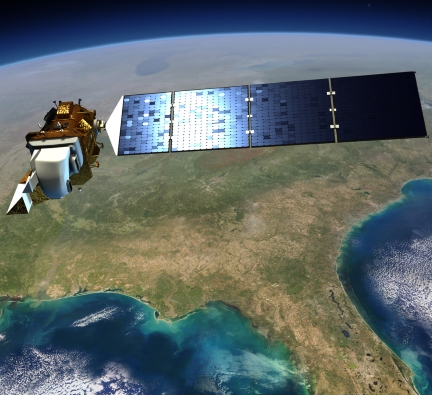 The establishment of the Mid-America Remote sensing Center (MARC) grew out of an interest in a relatively new technology, remote sensing, by a Murray State faculty member in the Department of Geography in the early 1970's. He generated interest among faculty on campus including an agricultural economist, a computer scientist, another geographer, and a soil scientist. That group, supported by the Murray State University administration, trained and conducted research at the NASA Earth Resources Laboratory at the Stennis Space Center during the late 1970s. The group also added a computer systems administrator position during that time period.
The initial group, supported by the Murray State University administration and NASA, was designated as a "technology transfer center to Kentucky" on Nov. 21, 1977, by Julian M. Carroll, Governor of Kentucky. The Murray State Board of Regents established MARC as a university entity in May 1979. MARC was located on the top floor of Lowry Center, the recently vacated annex to Pogue Library. With support from the Murray State University Foundation, offices, image processing equipment, map and image libraries and a classroom were acquired in September 1980.
Through the early and mid-1980's, MARC Associates continued to work closely with NASA-Stennis in the area of technology transfer as NASA researchers visited MARC, presented workshops and provided support for faculty, staff and students. MARC broadened its expertise in Geographic Information Systems (GIS) at the time, providing services in remote sensing and GIS locally, regionally and beyond through research projects, workshops, visiting scholars programs and international exchanges of faculty. In 1987, MARC established a relationship with the Murray State Center of Excellence for Reservoir Research (CRR). That association has been most beneficial as it broadened the focus of research activities by including new research faculty and students. CRR has since evolved into a more expansive endeavor, the Watershed Studies Institute (WSI).
Throughout the 1990s, MARC was instrumental in small-scale ecosystem mapping, being the primary research investigator for the National GAP Biodiversity Project. The 1990s also brought growing relationships with federal government employers, such as the National Geospatial Intelligence Agency, the US Department of State, several government contractors and non-governmental organizations, such the National Geographic Society.
Several changes emerged in the decade of the 2000s. The most significant change was Murray State/MARC's entry into the Council on Post-secondary Education (CPE)/Commonwealth of Kentucky's statewide site license agreement with the geospatial industry leader, ESRI. The CPE-ESRI higher education statewide license agreement (HESLA) provides all higher education institutions in Kentucky with a complete suite of ESRI software products and a broad selection of online courses, as well as other benefits.
In 2009, the Mid-America Remote sensing Center moved into new accommodations on the 4th floor of the Blackburn Science Building. The relocation also brought the Department of Earth and Environmental Sciences and Archaeology under one roof. The new accommodations provide additional classrooms, research and lab space, conference rooms, and faculty offices.