Arthur J. Bauernfeind College of Business
The Arthur J. Bauernfeind College of Business is committed to remaining at the very top of its field with frequent innovation to our business school programs to ensure our students are provided with the best education and guidance.
Our dedication to the maintenance and frequent enhancement of our degrees is just one of the reasons why a path in business at Murray State has a value you won't find anywhere else. With an array of undergraduate and graduate programs and options for online business classes, we give you the paths and opportunities to make the most out of your degree from the Arthur J. Bauernfeind College of Business.
Our mission is excellence
View all business departments and programs
More ways to learn
Contact us
Dr. David Eaton, Ph.D.
Dean
Office of the Dean
270.809.3482
109 Business Building
Message from the Dean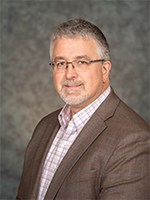 Welcome to the Arthur J. Bauernfeind College of Business. Here you will find traditional business disciplines such as Accounting, Finance, Marketing, Management, and Computer Information Systems as well as Economics, Journalism and Mass Communications, Organizational Communication and Leadership, and Computer Science.
Though we have a wide variety of disciplines, we share three key characteristics. First, we have faculty who are not only experts in their fields, but have a passion to see you learn, grow, and succeed in your chosen area of study.
Second, we believe in hands on learning. From our new finance classrooms to the Murray State News, to partnering in research and projects with faculty and community businesses, our students have many opportunities to apply outside the classroom what they are learning inside the classroom.
Finally, we are committed to students' success in careers and community service. We work with the Murray State Career Service office as well as business and government agencies to help our students start their careers. Many of our students participate in internships, community service and outreach activities, and professional activities while at Murray State.
I invite you to explore what the Arthur J. Bauernfeind College of Business has to offer and look forward to seeing you on your journey at Murray State.
Sincerely,
David Eaton
Dean
Murray State University Arthur J. Bauernfeind College of Business