College Courts Apartments
Welcome to the College Courts page! College Courts apartments are a great option for our married, single-parent, graduate, non-traditional and upperclassmen students. They are affordable and on campus apartments in a great location. There are one-bedroom and two-bedroom apartments available. The two-bedroom apartments are reserved for students with families of 3 or 4. Assignments are made based on priority level of the student. For more detail about the the apartments, please review the information below.
Housing Application
The Housing Office offers academic year contracts for College Courts with the option to add a summer contract if you are a returning as a student the next academic year. The application for Academic Year 2022-2023 will be available through myGate starting in October. The Housing application is available thru your myGate. There is a $150 deposit that must be submitted to complete your application.
About College Courts
College Courts is located on the northwest corner of campus approximately four blocks from the campus center. One hundred and thirty-two (132) of the apartments have a combination living and dining room, a bath, two full-sized closets and a linen closet. The furnishings include dining table/ chairs, electric stove/ oven range and refrigerator, coffee table, end tables, double bed (twin beds in apartments for unmarried students), dresser and chest of drawers. The bath has a tub with a shower. The two-bedroom apartments have the same furnishings as the one-bedroom apartments, except the second bedroom has one twin bed. Each apartment building has a utility room which are equipped with card access washer and dryers. All utilities are included in the price per semester. In addition, all apartments have air-conditioning, electric heating, wireless internet access and cable included.
College Courts Community
College Courts is a diverse community of married couples, single parents, children of all ages, non-traditional, graduate and undergraduate students. The Housing Office provides a staff of Resident Advisors (RAs) and a graduate Residence Director (RD) who can help the residents fit into this community by introducing neighbors, and through social and educational programs. Residents of College Courts should show their neighbors the same consideration they expect. Residents of College Courts are subject to the Student Code of Conduct outlined in the Murray State Student Life Handbook.
Application Priority Levels
Apartments are assigned based on the date of application and according to the priorities below:
Priority #1: Married students or single-parent student who have either two or three family members.Only after exhausting the waiting list for family applicants will apartments be assigned to others.

Priority #2: Non-traditional students regardless of class status. Non-traditional students are defined as students who are 23 years of age or older, financially independent and had a break between high school and college.

Priority #3: Graduate students who are at least 21 years of age.

Priority #4: Undergraduate students who are at least 21 years of age.

Priority #5: Faculty and staff members
The twelve two-bedroom apartments are reserved for families with three or four family members. There usually is a lengthy waiting list for the 12 two-bedroom apartments.
The College Courts Contract governs the occupancy of our apartments. Please click on the link provided to review the contract prior to arriving to campus.
Cost for College Courts
A $150 deposit is required with the housing application. The deposit assures student's keeping the reservation unless written cancellation is received by the Housing Office by June 1 for the fall semester and December 1 for the spring semester. The cost of College Courts per semester can be found on the Housing Rates tab. All normal utilities are included in the cost for the semester, including cable, internet, water, electric, etc. Students must arrange access to telephone services as well as their own long distance telephone service. The deposit will be refunded when the resident moves from the apartment, less any charges due to Murray State, if thirty (30) days notice is given.
Floor plans
One-Bedroom Floor Plan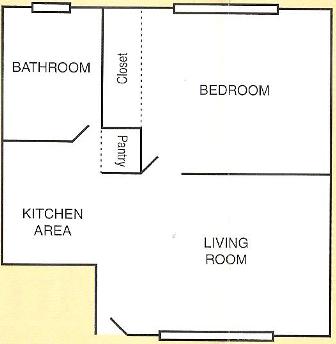 Two-Bedroom Floor Plan