Contact Us
Contact Us
Peggy Whaley
Director
Student Engagement and Success
Peggy Whaley is the Director of Student Engagement and Success at Murray State University. She leads institutional retention and student success efforts and initiatives. She also serves as the coordinator of the student success seminars and first-year experiences for the University. She received her M.Ed. in Instructional Leadership (1997) and B.S. in Agricultural Education (1995) from Colorado State University. Peggy has been a teacher, advisor, and advocate for students and their success for over 15 years both at Murray State University and at Colorado State University. Peggy, along with two of her Murray State colleagues, received the Best Practices Award from the Consortium for Student Retention Data Exchange at the 2018 National Symposium on Student Retention in Salt Lake City, UT.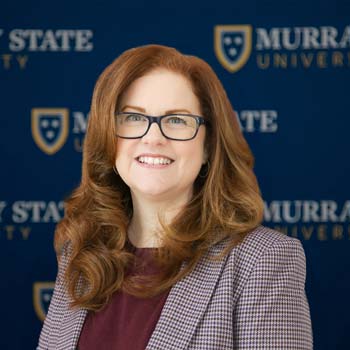 Jennifer Smith
Assistant Director
Student Engagement and Success
Jennifer Smith is the assistant director for the Center for Student Engagement and Success, serving as an advisor to undeclared students and assisting students with success goals, leading the Parent and Family Council, and the development and implementation of other retention initiatives. She also assists in Enrollment Management with communication initiatives. Jennifer received her B.S. in Plant and Soil Science (1996) from the University of Tennessee at Martin, working for the USDA-Natural Resources Conservation Service, before transitioning to education in her local county school system. Jennifer has worked in the Office of Admissions, and the Office of Enrollment Management at Murray State University, and is dedicated to helping students find their passion, set goals, and achieve success in their future endeavors in her role with Student Engagement and Success.