First-Year Experiences
Murray State University's program for first-year students provides opportunities to connect with their faculty, staff, peers, and student leaders through various activities, courses, and experiences on the MSU main campus. All first-year students participate in a success seminar combined with their major (departmental) transitions course. The seminar provides instruction and activities on key topics and resources for first-year students. These topics include growth mindset, grit, time management, study skills, and financial literacy. First-year students receive support and guidance from their success seminar instructor.
The first year of any new experience has its highs and lows. Zeller and Mosier (1993) adapted the Gullahorn and Gullahorn W-Curve to first-year college students. In their research, they determined that students, especially first-year students, experience a culture shock when they arrive in college. As a first-year student, how will you move towards and stay at the positive peaks of the W curve, rather than at the bottom of the curve? Murray State has many resources to help you make a successful transition.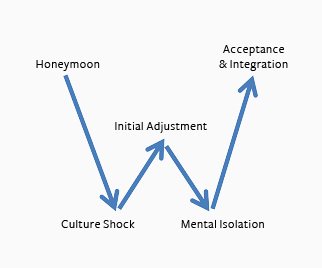 The Honeymoon: Students are generally happy and excited to be in college. This feeling occurs before and during the first few weeks of college. Students feel welcomed to campus and the new sense of freedom is enjoyable.

The Culture Shock: The newness of college begins to wear off and students are dealing with large classes, how best to study, shared living spaces, etc. The first of grades on quizzes of projects are received. Homesickness may start.

Initial Adjustment: Students have maneuvered the first part of the semester and are feeling more comfortable with themselves and their surroundings. They may have overcome the initial culture shock and are feeling confident.

Mental Isolation: Students may relapse into a sense of isolation as they try to understand their new culture contrasted with their home culture. They may feel their beliefs and values are being challenged. Questions about the selection of institution, major or other situations may cause doubt.

Acceptance, Integration and Connectedness: As students become more connected on campus and with friends and as they deal with the realities of the campus culture, they become more confident and comfortable. They are able to manage challenges success, and that builds confidence. "The university becomes the students' home" (Zeller and Mosier, 1993, p. 22).
College life is very different from high school.
Source: Zeller, W.J. and Mosier, R. (1993). Culture shock and the first-year experience. Journal of College and University Student Housing, 23(2), 19-23.