Dr. Ihsan Alkhatib
Contact Information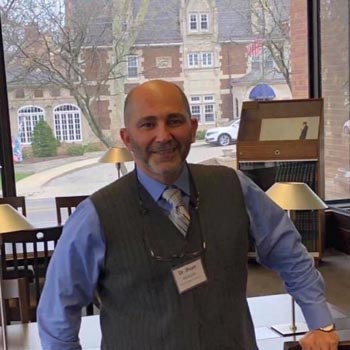 Dr. Ihsan Alkhatib
Associate Professor
Political Science
PhD, Wayne State University, Political Science
JD, University of Toledo College of Law
MA, University of Cincinnati, Organizational Communication and Leadership
MA, University of Cincinnati, Political Science
BA, American University of Beirut, Public Administration
Teaching and Research Interests
Business Law,
Business Ethics,
Legal Research and Writing,
Constitutional Law,
International Law,
American Islam and the Courts,
Community Policing,
Civil Rights and Civil Liberties,
Middle Eastern Politics
Biography
Dr. Ihsan Alkhatib is an associate professor at Murray State University's Political Science and Sociology department. Dr. Alkhatib practiced family law and immigration law for 10 years in the Greater Detroit area representing mainly Arab and Muslim American clientele. He worked for two years as the Law and Public Policy director and corporate counsel for Life for Relief and Development, the largest American Muslim NGO in the United States.
Dr. Alkhatib received his BA from the American University of Beirut, JD from the University of Toledo and his PhD from Wayne State University. Dr. Alkhatib is licensed to practice law in Michigan and Ohio (inactive).
Courses Taught
The Legal Environment of Business
Introduction to Legal Research
Legal research and Writing
Judicial Process
Criminal Law
International Law and Organizations
Constitutional Law I
Constitutional Law II (Civil Rights and Civil Liberties)
Business Ethics and Environments
American National Government
Ethnic Politics
Honors Seminar in International Affairs
Modern Middle East
International Law and Organizations
Judicial Process
Constitutional Law I
and Constitutional Law II (Civil Rights and Civil Liberties)
Selected Publications
(Book Review) "The Sunni Tragedy in the Middle East." Journal of Church and State. (Fall 2016).
"Islam is a Foreign Country." Digest of Middle East Studies (March 2014).
"Building bridges: The Experience of Leaders in Detroit, Michigan." in P. Daniel Silk, Basia Spalek and Mary O'Rawe's Preventing Ideological Violence: Communities, Police and Case Studies of "Success. Palgrave Macmillan, 2013.
Ihsan Alkhatib, Shariah law and American family Courts: Judicial Inconsistency on Talaq and Mahr Issues in Wayne County, Michigan, 83 Journal of Law and Society, 14 (2013).
"Fallujah Awakens: Marines, Sheikhs, and the Battle Against Al Qaeda." Digest of Middle East Studies (October 2013).
Pax Syriana: Elite Politics in Postwar Lebanon." Digest of Middle East Studies ( July 2013).
"Hamas and Civil Society in Gaza: Engaging the Islamist Social Sector." Digest of Middle East Studies (Spring 2013).
"Globalizing Afghanistan: Terrorism, War, and the Rhetoric of Nation Building." Digest of Middle East Studies (Fall 2012).
Student Organization Activities
Dr. Alkhatib is the pre-law advisor for Murray State University and also serves as the advisor for the Pre-Law Student Association. In addition, he is the co-advisor for Muslim Student Organization.