Dr. Diane Nititham
Contact Information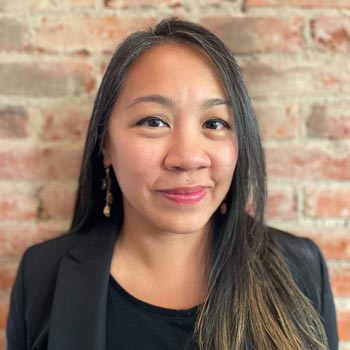 Dr. Diane Nititham
Associate Professor of Sociology
Sociology Program Director
PhD, Sociology, University College Dublin (UCD) – Dublin, Ireland
MA, Social and Cultural Foundations in Education, DePaul University
BA, Communication, DePaul University
Teaching and Research Interests
Diaspora, migration, race/ethnicity, globalization, and transnational social practices;
feminist critiques of home and belonging;
critical pedagogy and social justice in education
Biography
Dr. Diane Sabenacio Nititham is a cultural sociologist who focuses on the dynamics of diaspora, transnational social practices, and notions of home and belonging. She is interested in how these dynamics manifest for people amongst asymmetrical power relations, social policies, and community coalition building. Her book Making Home in Diasporic Communities: Transnational Belonging Amongst Filipina migrants (Routledge, 2016), highlights the intersections of global labor migration and everyday practices for Filipina migrants in Ireland. Her co-edited book Heritage, Diaspora, and the Consumption of Culture: Movements in Irish Landscapes (2013) uses a interdisciplinary and transhistorical framework to examine the cultural, material, and symbolic articulations of Irish migration relationships from the medieval period through to the contemporary post-Celtic Tiger era. She has also worked on several comparative projects, including a 16-person interdisciplinary team that examined the integration of Nigerian, Lithuanian, Indian and Chinese communities in Ireland.
Dr. Nititham received her PhD in Sociology from University College Dublin, Ireland. She received a MA with distinction in Social and Cultural Foundations in Education and BA in Communication from DePaul University. In 2017, she received the MSU Emerging Scholar Award and in 2021, the Board of Regents Teaching Excellence Award. She teaches a range of topics including popular culture, social inequality, migration, and education. She also offers courses in Dublin for Murray State's Education Abroad programs.
Courses Taught
SOC 133 Introduction to Sociology
HON 133 Honors Seminar in Sociology
SOC 269 Popular Culture
SOC 305 Social Issues
SOC 333 Sociology of Education
SOC 334 Sociology of Migration
SOC 337 Sociology of Inequality
SOC 343 Race and Ethnicity
SOC 465 Globalization
Selected Publications
Nititham, D.S. (2016). Making Home in Diasporic Communities. (London: Routledge).
Nititham, D.S. and Boyd, R. eds. (2014). Heritage, Diaspora and the Consumption of Culture: Movements in Irish Landscapes. (London: Routledge).
O'Sullivan, S., McMahon, L., Moore, G., Nititham, D.S. Slevin, A., Kelly, C. and Wixted, L. (2014). "'I Did Not Miss Any, Only When I Had a Valid Reason': Accounting for Absences from Sociology Classes". Teaching Sociology OnlineFirst, pp. 1-11.
Kelly,C., McMahon, L., Moore, G., Nititham-Tunney, D., O'Sullivan, S., Slevin, A., Wixted, L., (Under Review) "No reward, people aren't going to come?" The introduction and withdrawal of incentives for attendance. Journal of Further and Higher Education.
Nititham, D.S. (December 2011) "Migration as Cultural Capital: The Ongoing Dependence on Overseas Filipino Workers", Malaysian Journal of Economic Studies, 48 (2).
Nititham, D.S. (2008) "Locating the self in diaspora space", Translocations: The Irish Migration, Race and Social Transformation Review, 3 (1), pp. 1-17.