Ayorinde Ogunyiola
Contact Information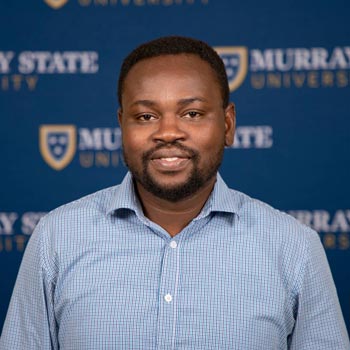 Dr. Ayorinde Ogunyiola
Assistant Professor
Sociology
Education
Ph.D., Sociology, South Dakota State University, United States
M.S., Mathematics (finance), Jomo Kenyatta University of Agriculture and Technology & Pan African University, Kenya
M.S., Economics, University of Ibadan, Nigeria
B.S., Economics, Ahmadu Bello University, Nigeria
Research Interests
Climate Change
Precision Agriculture
Responsible Innovation
Computational Social Science
Science and Technology Studies
Courses Taught
Introduction to Sociology
Medical Sociology
Research Methods
Technology and Society
Biography
Ayorinde Ogunyiola is an Assistant Professor at Murray State University. He combines computational methods and interdisciplinary theories to understand climate change issues and socio-ethical implications of emerging technologies such as artificial intelligence, big data, and algorithms in agricultural production systems and other sectors. Ayorinde has a Bachelor's in Economics from Ahmadu Bello University (Nigeria), a Masters in Economics from the University of Ibadan (Nigeria), a Masters in Mathematics (Finance) from Jomo Kenyatta University of Agriculture and Technology and Pan African University (Kenya), and a Ph.D. in Sociology (with a focus in environmental sociology) from South Dakota State University.
Selected Publications
Posadas B., Ogunyiola A., & Niewolny K. (2022) "Socially responsible AI assurance in precision agriculture for farmers and policymakers." In AI assurance towards trustworthy, explainable, safe, and ethical AI, forthcoming, October 18, 2022
Ogunyiola, A., & Gardezi, M. (2022). Restoring sense out of disorder? Farmers' changing social identities under big data and algorithms. Agriculture and Human Values. Read Article.
Ogunyiola, A., Gardezi, M., and Vij, S. (2022). Smallholder farmers' engagement with climate smart agriculture in Africa: Role of local knowledge and upscaling. Climate Policy. Read Article.
Stablein, M.J., Gonzalez Cruz, J., Fidan, E.N., Talbot, J., Reed, S.P., Walters, R.S., Ogunyiola, A., Frey M.F., Ramirez, M. Casanovag, R.B., Heemstraa, J., Marshalla, A. & Rodríguez, L.F. (2022). Compound[ing] disasters in Puerto Rico : Pathways for virtual transdisciplinary collaboration to enhance community resilience. Global Environmental Change, 76, 102558. Read Article.
Gardezi, M., Michael, S., Stock, R., Vij, S., Ogunyiola, A., & Ishtiaque, A. (2022). Prioritizing climate-smart agriculture: An organizational and temporal review. Wiley Interdisciplinary Reviews: Climate Change, WCC755. Read Article.
Gardezi, M., Adereti, D. T., Stock, R., & Ogunyiola, A. (2022). In pursuit of responsible innovation for precision agriculture technologies. Journal of Responsible Innovation, 1-24. Read Article.
Dada, O., & Ogunyiola, A. (2021). A preliminary impact assessment of social distancing on food systems and greenhouse gas emissions. Journal of Human Behavior in the Social Environment, 31(1-4), 254-261. Read Article.
Avemegah, E., Gu, W., Abulbasher, A., Koci, K., Ogunyiola, A., Eduful, J., Li, S., Barington, K., Wang, T., Kolady, D., Perkins, L., Leffler, A.J Kovács, P., Clark, J. D. Clay, D., E. & Ulrich-Schad, J. D. (2021). An Examination of Best Practices for Survey Research with Agricultural Producers. Society & Natural Resources, 34(4), 538-549. Read Article.
Ogunyiola, A., Mwita, P.N., & Njenga, C., (2017) Estimating Dependence structure and risk of a financial market crash. International Journal of Statistics and Probability, 5(6), 85-93.
Ogunyiola, A., (2015) An Analysis of Shale Oil Development and Its implications for OPEC Exporting Nations: Evidence from Nigeria. Nigerian Association of Energy Economist/International journal of energy economist. April 26-28, 2015.
Ogunyiola, A., and Garba, A.G., (2014) An Analysis of the Structural and Employment Implications of the 2014 GDP Rebasing in Nigeria. Journal of Economic Studies (NJES), 183 – 200.