Dr. Paul D. Foote
Contact Information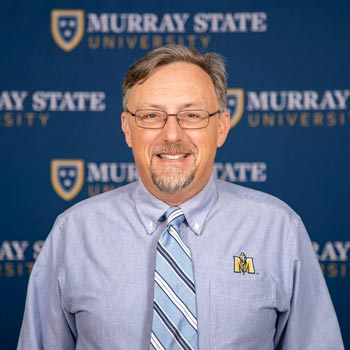 Dr. Paul D. Foote
Associate Professor
Political Science
PhD, Georgia State University
MA, Villanova University
BA, West Chester University
Teaching and Research Interests
My research interest topics include
U.S. Supreme Court decision-making,
Free Speech and Public Employees,
Judicial Behavior on the Federal and State Courts.
My teaching interests include
Judicial Politics,
Constitutional Law I: Powers and Institutional Constraints,
Constitutional Law II: Civil Liberties and Civil Rights,
Judicial Process,
Law and Public Administration,
American Government,
Introduction to Political Science.
Biography
Dr. Paul D. Foote is an Associate Professor of Political Science at Murray State University. He teaches in the pre-law concentration of the political science major. His research focuses on the behavior of the Supreme Court. He is particularly interested in the study of institutional and external factors that affect judicial decision-making on the federal courts. He received his Ph.D. from Georgia State University in 2002. He earned a MA degree from Villanova University in 1995 and his BA from West Chester University in 1993. His hobbies include history (Civil War and WWII), hiking, cycling, bowling and spending quality time with his family.
Courses Taught
POL 140 American National Government
POL 240 State and Local Politics
LST 250 Mock Trial
POL 439 Public Sector Leadership
POL / LST 444 Judicial Process
POL / LST 445 Constitutional Law I: Developments and Trends
POL / LST 447 Constitutional Law II: Civil Liberties and Civil Rights
POL / LST 476 Law in Public Administration
POL 639 Public Sector Leadership (Graduate)
POL 685 Capstone to Public Administration (Graduate)
POL 686 Law in Public Administration (Graduate)
Selected Publications
Paul Douglas Foote and Austin Trantham. "Centralizing the Selection of Circuit Court Nominees in the George W. Bush, Obama, and Trump Administrations," Commonwealth Review of Political Science, Volume 6, No. 1 (2023): 28-45.
Paul Douglas Foote, James R. Harrington, and John R. McCaskill. 2020. The Perils of Posting: Court Cases on Off-Duty Social Media Conduct of Public Employees. Lexington Books: An imprint of the Rowman and Littlefield Publishing Group.
Paul Douglas Foote and James Clinger. "The First Amendment and the Off-Duty Conduct of Public Employees: Tradeoffs between Civil Liberties, Agency Mission, and Public Trust." Public Integrity, Volume 19, No. 3 (2017): 1-11.
"Balancing the Ideological Scales: Chief Justice John G. Roberts, Jr., and the Moderation on the U.S. Supreme Court," New England Journal of Political Science, Volume IX, No. 1 (Spring 2016): 74-106.
"Sixty Years after Brown v. Board of Education: The Role that Moderate Justices' Played on the Warren Court in Closely Divided and Salient Cases." Midsouth Political Science Review 16 (2015)
"The Role of Precedent and Case Salience on Judicial Decision-Making: Is Justice Anthony Kennedy a moderate or a staunch conservative on the U.S. Supreme Court?" Journal of Political Science 40: 5-37 (2012)
"The So-Called Moderate Justices on the Rehnquist Court: The Role of Stare Decisis in Salient and Closely-Divided Cases." Journal of Social Sciences 6(2): 186-197 (2010)
Student Organization Activities
Dr. Foote is the faculty advisor to the Murray State Mock Trial team. Mock trial provides students an education in the law and trial practice, both in the classroom and in simulated trial environments. Students engage in preparation for trial of a case provided by the American Mock Trial Association, and learn about and apply the Federal Rules of Evidence. They also travel to mock trial tournaments, sanctioned by the American Mock Trial Association, to compete against mock trial teams from other colleges and universities.