Dr. Brittany Wood
Contact Information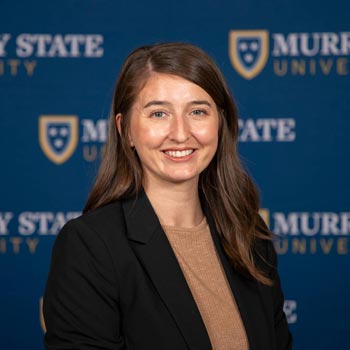 Dr. Brittany Wood
Assistant Professor
Political Science
Ph.D., Washington State University
MA, Washington State University
MA, Dokuz Eylul University
BA, University of Louisville
Teaching and Research Interests
Comparative Politics,
International Relations,
Political Psychology,
Political Behavior,
American Foreign Policy,
Political Leadership,
Research Methods,
Gender,
Turkish Politics.
Courses Taught
POL 252 Comparative Politics
POL 359 Writing and Inquiry in the Social Sciences
Biography
Dr. Brittany Wood joined the faculty of Murray State University in the fall of 2020. Currently, she teaches courses in comparative politics and research methods. In addition to her teaching duties, Dr. Wood is the advisor for the Murray State Model UN Club. Her research interests lie in comparative politics, international relations, and political psychology. Specifically, her research agenda focuses on the international experiences of citizens and how these experiences influence their domestic political behavior, views of democratic institutions, and foreign policy opinions.
Dr. Wood received her PhD and MA from Washington State University with an emphasis in International Studies and Political Psychology. She also received an MA in International Relations from Dokuz Eylul University in Izmir, Turkey. Dr. Wood received her BA from the University of Louisville, majoring in History and minoring in Anthropology.
Research in Progress
"Travel as a Political Interest Stimulant"
"The Effect of Travel on Foreign Policy Opinions: A Longitudinal Study"
"Transnational Movement and its Effects on Political Participation"
"Crossing National Borders: How Travel Increases Political Knowledge"
Model United Nations Club
Dr. Wood is the faculty advisor for the Murray State Model UN Club. Model UN serves as a platform for students to learn about diplomacy, international relations, and the United Nations, as well as current world events. If you are interested in joining, please contact Dr. Wood at bwood4@murraystate.edu.