Dr. Marc Polizzi
Contact Information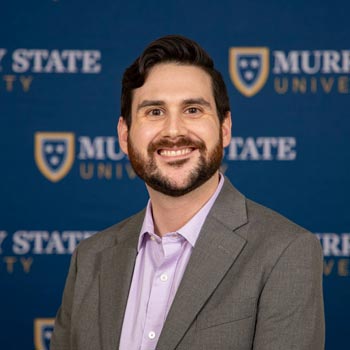 Dr. Marc Polizzi
Assistant Professor
Political Science
Ph.D., University of Missouri
MA, University of Missouri
B.A., University of Missouri
Teaching and Research Interests
Human Rights,
Transitional Justice,
Non-State Actors,
Political Violence,
Anti-Government Contention and Protests, and
Latin American Politics
Courses Taught
POL 250 Introduction to International Relations
HON 270 Honors Introduction to International Relations
POL/SOC 360 Research Methods
POL 449 Human Rights
POL 453 Government and Politics of Latin America
POL 457 International Law and Organizations
POL 469 Terrorism, Insurgency and Counterterrorism
POL 499 Senior Seminar
Biography
Dr. Marc S. Polizzi joined the faculty at Murray State University in the Fall of 2016. He teaches courses on a wide range of International Relations topics including: Introduction to International Relations, Human Rights, Terrorism, Insurgency, and Counterterrorism, Latin American Politics, and Research Methods.
In addition to his teaching interests, his research focuses on transitional justice efforts--such as truth commissions and human rights trials--in post-conflict and post-authoritarian states. Specifically, he is interested in whether or not these efforts are successful in promoting democracy and human rights, and the role these mechanisms play in incorporating marginalized populations into the political system. He also researches the role of non-state actors in democratic processes, particularly protest movements in Latin America against resource extraction. His work has been published in the Journal of Development Studies and the Oxford Handbook of Political Networks.
Dr. Polizzi received his Ph.D. and MA from the University of Missouri with an emphasis in International Relations and Comparative Politics. His dissertation is entitled "Conditional Justice: Determining the Implementation and Effectiveness of Transitional Justice Mechanisms." Dr. Polizzi also received his B.A. from the University of Missouri, majoring in political science and minoring in economics.
Selected Publications
Marc S. Polizzi and Jeffrey King. 2021. "Aid for Justice? Analyzing the Impact of Foreign Aid on Recipient Transitional Justice Implementation." The International Journal of Human Rights. DOI: 10.1080/13642987.2021.1948404
Danielle Nielsen, Diane Sabenacio Nititham, and Marc S. Polizzi. 2021. "Interdisciplinary Team Teaching: Reflections on Praxis and Pedagogy in an Undergraduate Classroom." College Teaching. DOI: 10.1080/87567555.2021.1915236
Bryce Reeder and Marc S. Polizzi. 2021. "Transforming Zones of Exclusion to Zones of Inclusion? Local-Level UN Peacekeeping Deployments and Educational Attainment." International Studies Quarterly. DOI: 10.1093/isq/sqab018
Moises Arce, Marc S. Polizzi, and Bryce Reeder. 2020. "Willingness to Protest Over Resource Extraction in Latin America." The Extractive Industries and Society 7(2): 716-728.
Marc S. Polizzi and Amanda Murdie. 2019. "NGOs and Human Rights." In The Routledge Handbook of NGOs and International Relations.
Moises Arce, Rebecca Miller, Christopher F. Patane, and Marc S. Polizzi. 2017. "Resource Wealth, Democracy, and Mobilisation." Journal of Development Studies 54(6): 949-967.
Marc S. Polizzi and Amanda Murdie. 2016. "Human Rights and Transnational Advocacy Networks." In The Oxford Handbook of Political Networks, Jennifer Nicoll Victor, Mark Lubell, and Alexander Montgomery, eds.
Student Organizations
Dr. Polizzi is the faculty advisor for Murray State's Amnesty International Chapter. Amnesty International is an international non-governmental organization focused on the advancement of human rights on a global scale, campaigning against torture, political imprisonment, and other forms of government repression. If you are interested in joining Murray State's chapter, please contact Dr. Polizzi at mpolizzi@murraystate.edu.