Alexandra Hendley
Contact Information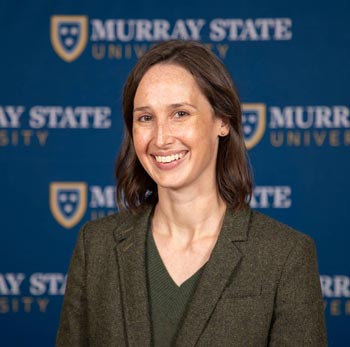 Dr. Alexandra Hendley
Associate Professor
Sociology
2014 Ph.D. in Sociology from University of California, Santa Barbara
2006 B.A. in Sociology and Anthropology from Southwestern University
Biography
Dr. Alexandra (Ali) Hendley is a qualitative sociologist whose research focuses primarily on gender inequality and work/occupations. She is particularly interested in meaning-making efforts such as how individuals frame social problems and how they negotiate, (re)construct, and/or express identity. Most recently, she has explored these issues as they pertain to women Nobel laureates. Previously, her work examined the world of private and personal cheffing. Dr. Hendley's research has been published in outlets including Cultural Sociology, Advances in Gender Research, and Sociological Inquiry. In recognition of her work, she received the College of Humanities & Fine Arts (at Murray State University) Excellence in Scholarly & Creative Activity Award in 2017.

Dr. Hendley received her Ph.D. in Sociology with a doctoral emphasis in Feminist Studies from the University of California, Santa Barbara. She graduated summa cum laude with a B.A. from Southwestern University, double majoring in Sociology and Anthropology. Dr. Hendley teaches a wide range of topics including gender, food, work, family, and qualitative research methods. She has published several peer-reviewed course resources in the American Sociological Association's online repository, Teaching Resources and Innovations Library for Sociology (TRAILS).
Courses Taught
Introduction to Sociology (SOC 133)
Sociology of Food (SOC 325)
Sociology of Family (SOC 331)
Home and Society (SOC 351)
Sociology of Gender (SOC 355)
Writing and Social Inquiry in the Social Sciences (SOC 359)
Qualitative Research Methods (SOC 365)
Sociology of Work (SOC 435)
Selected Publications
Hendley, Alexandra. 2022. "Crime-Fighting Heroes and Pretty Caped Crusaders: Classroom Content Analysis of Children's Halloween Costumes." Feminist Pedagogy 2(4): 1-12.
Hendley, Alexandra. 2017. "Passion on the Plate: A Critical Reflection on Career Change and Personal Cheffing." Food & Foodways 25(4): 300-321.
Hendley, Alexandra. 2016. "The Culinary 'Food Chain': Private and Personal Chefs Negotiate Identity and Status in the Culinary Profession." Pp. 219-241 in Advances in Gender Research. Vol. 22, Gender and Food: From Production to Consumption and After, edited by V. Demos and M. Texler Segal. Bingley, UK: Emerald Group Publishing Limited.
Hendley, Alexandra. 2016. "Seeking Self-Verification: Motives for Private and Personal Chefs' Boundary Work." Cultural Sociology 10(4): 466-482.
Hendley, Alexandra and Maria Charles. 2015. "Gender Segregation in Higher Education." Pp. 1-11 in Emerging Trends in the Social and Behavioral Sciences, edited by R.A. Scott and S.M. Kosslyn. Hoboken, NJ: John Wiley & Sons, Inc.
Charles, Maria, Bridget Harr, Erin Cech, and Alexandra Hendley. 2014. "Who Likes Math Where? Gender Differences in Eighth-Graders' Attitudes around the World." International Studies in Sociology of Education 24(1): 85-112.
Hendley, Alexandra. 2012. "Chefs, Female" in The Multimedia Encyclopedia of Women in Today's World, edited by M. Zeiss Stange and C.K. Oyster. Sage Publications.
Hendley, Alexandra and Denise D. Bielby. 2012. "Freedom between the Lines: Clothing Behavior and Identity Work among Young Female Soccer Players." Sport, Education and Society 17(4): 515-533.
Hendley, Alexandra. 2009. "Barreras del Lenguaje: Children's Negotiation of Adult-Created Exclusionary Structures." Sociological Inquiry 79(1): 115-134.
Kain, Edward L., Alexandra O. Hendley, Lauren R. Contreras, and Krystal K.Wyatt-Baxter. 2007. "Sociology in Two-Year Institutions." Teaching Sociology 35(4): 350-359.
Student Organization Activities
Dr. Hendley is the faculty advisor to Alpha Kappa Delta, the International Sociology Honor Society. She also is the faculty advisor to Omicron Delta Kappa, the National Leadership Honor Society.