Student Organizations
Political Science Student Organizations
The Department of Political Science and Sociology offers a variety of extracurricular opportunities that supplement classroom work. Students can hear presentations by guest speakers, attend discussions and colloquia, and take advantage of a variety of other activities to further their education outside the classroom.
Model United Nations Club
Murray State Model UN club is designed to promote students' active learning about the UN, international relations, and important global issues and to help students develop their skills of debate, compromise, conflict resolution, and negotiations by simulating the UN system. The club activities also help students gain a broader perspective of global issues and the role of the United Nations. Murray State Model UN club will attend national and/or regional Model UN Conferences every year. Contact Dr. Brittany Wood (bwood4@murraystate.edu) for more information.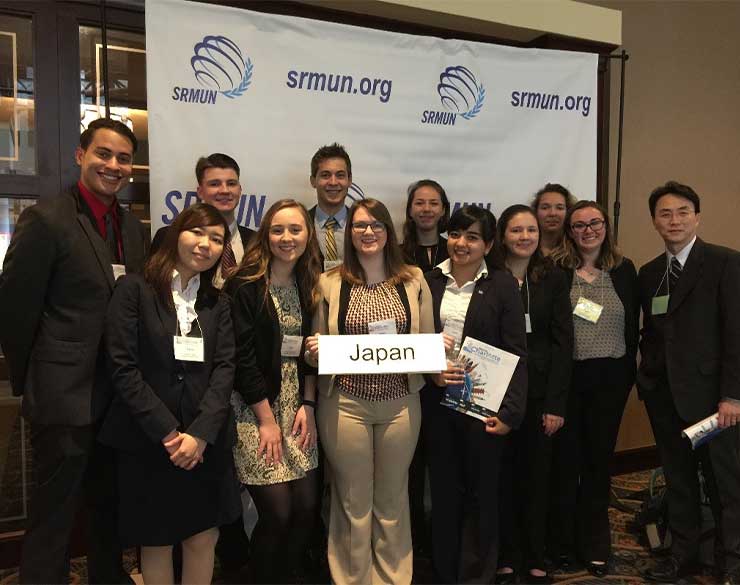 Political Science Club
The Club is a nonpartisan educational organization that fosters understanding of political science, electoral politics, and public policy issues both on campus and in the community. The purpose of this association is to facilitate an environment for political discussion and allow a forum of political discourse. The members of the Club organize and participate in projects, arrange activities, and promote active citizenship. For more information about Political Science Club, contact Dr. Paul Foote (pfoote@murraystate.edu).
Pi Sigma Alpha (Political Science Honor Society)
The department sponsors the Zeta Phi local chapter of the national, political science honor society. Juniors and seniors who have completed ten credit hours in political science and have a 3.0 GPA in political science courses and university wide are eligible for membership. For more information, contact Dr. Drew Seib (jseib@murraystate.edu).
Student Law Association
The purpose of this association is to orient those students desiring to pursue a career in law with details about law school admission requirements and process as well as the law profession in general. Activities include presentations and panel discussions by deans of law schools and field trips to schools to witness first hand what law school is like. For more information about the association, please contact Dr. Ihsan Alkhatib (ialkhatib@murraystate.edu).
Mock Trial
Mock Trial provides students with insight into the job of a trial lawyer and the judicial system more broadly. Students gain experience with basic trial advocacy skills through preparation for and participation with the Murray State Mock Trial Team in American Mock Trial Association sanctioned competitions. Please contact Dr. Paul Foote (pfoote@murraystate.edu) for more information.
Sociology Student Organizations
Alpha Kappa Delta (Sociology Honors Society)
Alpha Kappa Delta (AKD) is the International Sociology Honor Society established in 2013 at Murray State University. The purpose of Alpha Kappa Deltais to seek to acknowledge and promote excellence in the scholarship in the study of sociology, the research of social problems, and such other social and intellectual activities as will lead to improvement in the human condition.
Membership is open to undergraduate students, graduate students, and faculty members from active chapters who meet our minimum standards. Please contact Dr. Diane Nititham (dnititham@murraystate.edu) for more information.
Sociology Student Club
The Sociology Student Club offers an opportunity for anyone interested in sociology to join with like-minded students in both social and service-oriented activities. The club is open to not only sociology majors or minors but to any Murray State student interested in sociology. Please contact Dr. Diane Nititham (dnititham@murraystate.edu) for more information.
The club sponsors guest speakers and panel discussions on topics ranging from career planning and graduate school preparation to topics in criminology, health, politics, and the environment. Club members have taken field trips to the National Civil Rights Museum, presented at regional academic conferences, and have joined together in fund-raising activities like bake sales, yard sales, donation drives, and cookouts to raise money for local non-profits.
Join our Facebook page to learn of upcoming sociology club events!