President's Office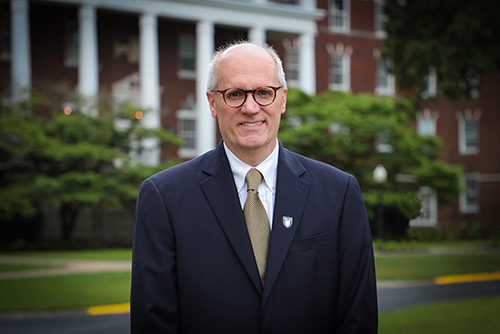 Dr. Robert L (Bob) Jackson
President
Twitter | Instagram
President's Public Schedule of Events
A proud Murray State alumnus, Dr. Robert L (Bob) Jackson was appointed president of Murray State University on March 1, 2019, after serving as interim president since August 2018.
Jackson has served Murray State University in several capacities over the last decade including most recently as the president and chief executive officer of the Murray State University Foundation, Inc. where he managed the ~$180 million foundation. He was also the senior advisor to the University for state and federal governmental relations.
Under his leadership, some of the largest gifts in the University's history have been received from generous alumni and friends. Of recent note, the Bill & Louise Hatley Estate gift of nearly $3 million was announced in July 2018 and the Eagle Rest Plantation gift, a 540-acre laboratory and research farm valued at nearly $3 million, was donated by Judge Jimmy Don Robinson, Ballard County, Kentucky.
In 2019, Jackson was elected by his peers to serve as the Chair of the Council of University Presidents (convenor) for the Council on Postsecondary Education. From 2006 to 2013, he served as the director of a major fundraising campaign at Murray State University, which raised more than $71.7 million from over 23,000 distinct donors, exceeding the original goal of $60 million. From 1997 to 2004, Jackson served the Commonwealth of Kentucky as a State Senator and served in Senate Leadership. He has worked successfully on many state and federal governmental projects and has been recognized for his public service. In addition, he has worked in corporate finance and as a senior executive in investment banking.
Jackson has a Bachelor of Science degree in finance from Murray State University. He has completed graduate courses in finance at Murray State University and doctoral courses at the University of Leicester (UK). He holds a Master of Arts degree in higher education administration from Antioch University and a doctorate in educational leadership from Western Kentucky University.
Jackson has served as president of the Murray State University Alumni Association Board of Governors. He was selected as a Kentucky Leader for the New Century (40 state leaders under 40) and as a national Toll Fellow by the Council of State Governments. He has been recognized by his alma mater with the distinguished Golden Horseshoe Award, the highest honor bestowed upon its alumni for service to the University. LaRue County High School (KY) recognized him as a Distinguished Alumnus in 2010.
He is married to the former Karen Miller, a MSU alumna and registered nurse; they are the parents of two children, Nolan and Mariel.
Strategic Plan
The Finest Place We Know – Strategic Plan: 2020-2025
Approved by the Board of Regents December 4, 2020
Presentations and Speeches
A Conversation on Philanthropy and Giving at Murray State University with President, Dr. Bob Jackson
Budget Town Hall - April 28, 2022
Dr. Harry Sparks Lecture Keynote Speaker - May 3, 2022
Presentation slides from Sparks Lecture
Murray-Calloway County Chamber of Commerce Business @ Breakfast - August 23, 2022