Matthew Robertson
About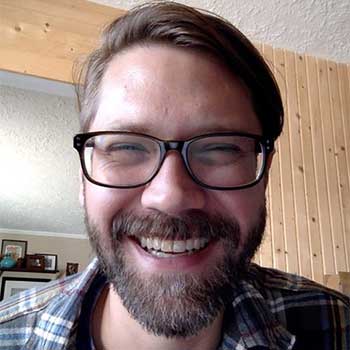 Matthew Robertson
Lecturer
Religious Studies Program Coordinator
Education:
Ph.D., University of California, Santa Barbara, 2017
M.A., St. John's College, New Mexico, 2009
B.S., Truman State University, 2005
Publications
"Bigness, Brilliance, the Buddhi, and the Brāhmaṇya Yoked-Up King."

Journal of Hindu Studies

(forthcoming)

"Bliss and Bodily Disorientation: The Autophagous Mysticism of Georges Bataille and the Taittirīya Upaniṣad." In

Transformative Embodiment in Asian Religions: Subtle Body, Sensory Body, and Spatial Body

(Routledge Press), edited by George Pati and Katherine Zubko, 2019.

"The Autophagous Absolute: Revelations of Cosmic and Sovereign Violence in the

Taittirīya Upaniṣad

and the

Bhagavad Gītā.

"

Journal of Religion and Violence

6(1): 73-105, 2018.

"The Identity of Person and World in

Caraka Saṃhitā

4.5,"

Journal of Indian Philosophy

45: 837-861, 2017.

"In a Time Gone Mad: Indic Notions of Madness in the Mahābhārata and Beyond,"

Journal of Hindu Studies

9: 111-144, 2016.

"The Unconscious Mind." In,

Ghosts, Spirits, and Psychics: The Paranormal from Alchemy to Zombies

. Edited by Matt Cardin. ABC-Clio Inc., 2015.
Research and Teaching Interests
History of South Asia and South Asian Religions,

Epic Literature of South Asia,

Āyurveda,

Religion and Violence,

Mortality Studies,

Religion and Environmental Thought,

History of Medicine,

Personhood,

Spatial Theory,

Body Theory.
Courses Taught
CIV 201 - World Civilizations and Cultures I

RGS 200 - Introduction to Religious Studies

HIS/RGS 309 - Survey of World Religions

HIS 359 - Early India