Resourceful Racers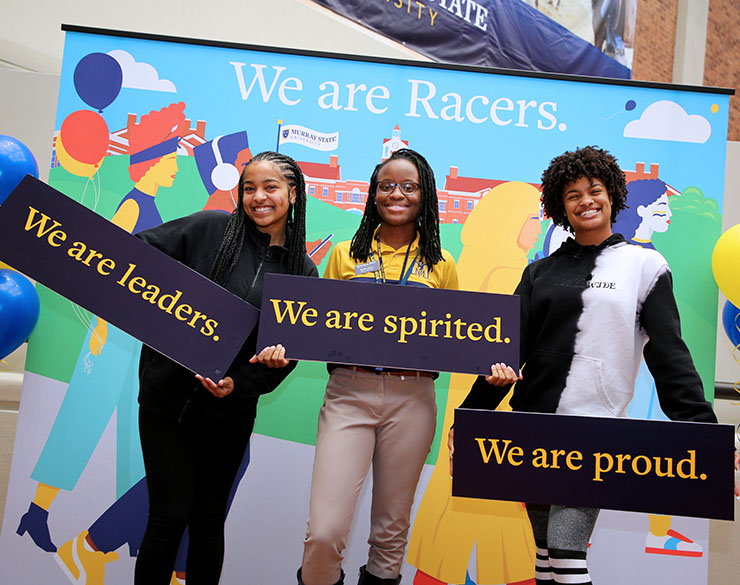 Resourceful Racers
Below you will find various resources to help you be a resourceful and successful Racer. Please utilize these resources. If you do not see what you are looking for or have questions, please contact the Center for Student Engagement and Success at msu.success@murraystate.edu.
Create Your Future
Academic Programs - This is where it all begins. You have dreams. We'll help them come true. From nursing to music and business administration to education and agriculture, Murray State offers 148 academic programs to help you become what - and who - you want to be.
Career Services - Get assistance with resumes, cover letters, mock interviews, and more!
Undeclared Academic Advising - The undeclared major provides students with one-on-one advising, assistance in career exploration, and academic support while selecting their major and future careers.
Get Involved, Find Your Niche
Campus Recreation and Wellness - Love sports? Get involved in intramural sports and find fitness activities that suit your personality.
Center for Student Involvement - There are over 150+ registered Student Organizations on campus. Find your place today.
Curris Center (Student Center) - The main social hub on campus! Find many resources here (University Bookstore, Greek Life, etc.), many food options (Chick-fil-a, Steak 'n Shake, and more), and connect with your fellow Racers!
Family Weekend - This is a great event to invite your family to! They can come visit you on campus and learn all about our wonderful University!
Great Beginnings - Your college career begins here! You will get the opportunity to acclimate to campus life, ease into the transition, and receive support and resources to jump start your college experience!
Greek Life - There are several Fraternities and Sororities on campus to get involved with! Take on leadership roles, give back to your community, and make lasting friendships.
Residential Colleges - A home away from home! Find leadership opportunities within the Residential College Council, become a Residential Advisor, and participate in fun and educational activities.
Support Services
Auxiliary Services - A group of general resources to make your time at Murray State more enjoyable. These include Dining, Housing, RacerCard, and University Store.
Career Services - Get assistance with resumes, cover letters, mock interviews, and more!
Center for Student Engagement and Success - Find support and guidance to make your college experience successful!
Commuter Services - Living off-campus can leave you feeling disconnected. Find resources and gain support here!
Counseling Services - College life can sometimes be tough and overwhelming. Meet with a counselor and receive the help you need. Services are confidential and free.
Health Services - Village Medical provides students with services such as wellness visits, treatments of illness or injury, chronic care management, and more!
Housing and Residence Life - Living on-campus is a wonderful college experience! Learn all about your housing options, get answers to your questions, and find any documentation you may need!
Institute for International Studies - Get your questions answered regarding documentation, housing, classes, and more.
Mental Health and Emotional Well-Being - You Matter! We care about you. Your mental and emotional well-being are very important to us. The information on the website provides you with primary resources, both on and off-campus, that can help you be a successful Racer.
Multicultural Initiatives, Student Leadership and Inclusive Excellence - A space that advocates and encourages Diversity, Equity, and Inclusion amongst our campus community! Find support, leadership opportunities, and more.
Murray State Police Department - The Murray State University Police Department is proud to serve as the guardians of the Racer Nation.
Post Office - Receive and ship packages at our convenient on-campus Post Office!
Pride Center - A space that encourages connection, growth, and engagement for our LGBTQ+ Student Community! Find activities, services, support, and more.
Psychological Center - Provides a variety of counseling services to Murray State students, faculty, and staff as well as community members from the surrounding area.
Racers Helping Racers Food Pantry - College can be a financial burden. Find what you need at the Food Pantry, no questions asked!
Starfish Student Success Network - Raise Your Hand for assistance and connect with your support team.
Student Disability Services - Need accommodations for tests, note-taking, and more? Find all the support and resources you need here!
Student Financial Services
Student Financial Aid - The mission of the Office of Financial Aid is to offer opportunities for students to gain access to higher education through financial assistance from federal, state, and institutional aid. Our office strives to provide the highest quality of service while awarding all possible financial assistance and supporting the University's recruitment, enrollment, and retention efforts to enable students the ability to achieve their desired educational goals.
Bursar's Office - The Bursar's Office is responsible for the collection of all fees owed to the university.
Scholarship Office - Provides opportunities for students to apply for and earn scholarships to financial support their education.
Transfer Admissions - Learn about becoming a Racer! Find information on financial aid, scholarships, transferring credits, and more!
Testing Center - Find information on standardized tests and schedule dates to take specific tests such as the ACT, LSAT, GRE, Praxis, and more.
TRiO Student Support Services - Provides an array of different services to First-Generation students and more. Find out if you are eligible and find more information here!
University Libraries - Serve as the student-centered learning commons of the university community and as a resource that bolsters the regional economy and culture.
Veteran and Military Student Success - Murray State welcomes our Veterans who served and continue to serve our country! Get support, find resources, and learn about the benefits we offer.
Wellness Center - All students receive access to our Wellness Center that includes basketball courts, swimming pool, tons of workout equipment, and more! You can also find fitness classes and activities to keep you healthy!
Women's Center - Focus on gender equity and inclusion. Find resources, receive assistance, and discover an environment that is safe and supportive!
Once a Racer, Always a Racer!
Alumni Association - We are Racers. This is our legacy. Like the Thoroughbreds we are named for, Racers are spirited and proud. We have the heart and will to succeed, to go farther, learn more and embrace wisdom. You can help us carry on this tradition by joining the Alumni Association today.