William (Rusty) Jones
Contact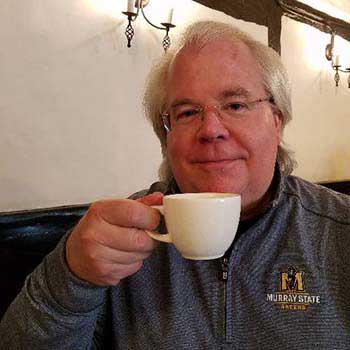 William (Rusty) Jones
PROFESSOR, DEPARTMENT CHAIR, SHAKESPEARE FESTIVAL CHAIR
"I am privileged to teach some of the finest literature in the English language. Studying Shakespeare's works has afforded me many valuable insights into the nuances of the human condition, while my exploration of satire continues to demonstrate to me the power of language and ideas to provoke real social change; I am pleased to have the opportunity to share such discoveries with my students. I try to design all of my classes with an eye towards producing original and informed thinkers able to call upon the knowledge, resources and self-confidence gained during their studies. Ultimately, my goal is to guide students to intellectual independence and personal success."
Education
Ph.D., University of California, Santa Cruz
M.A., University of California, Santa Cruz
B.A., Occidental College, Los Angeles
Highlighted Publications
"'Say They Are Saints Although That Saints They Show Not': John Weever's 1599 Epigrams to Marston, Jonson, and Shakespeare." The Huntington Library Quarterly.73.1 (Spring 2010): 83-98.
"The Bishops' Ban of 1599 and the Ideology of English Satire." Literature Compass (on-line journal). 7.5 (2010): 332-346.
"'People Have to Watch What They Say': What Horace, Juvenal, and 9/11 Can Tell Us About Satire and History." Helios. 36.1 (Spring 2009): 27-53.
"Satire." New entry for The Princeton Encyclopedia of Poetry and Poetics. Ed. Roland Greene (forthcoming in June 2012).
Selected Works of Dr. Jones
Courses Taught
Shakespeare
Comedy and Satire
British Literature to 1760
History of the English Language
The Works of Edmund Spenser
Critical Reading, Writing and Inquiry
Areas of Specialization
Shakespeare

English Renaissance Poetry and Drama

Renaissance and Restoration Satire
Awards and Distinctions
CHFA Award for Teaching Excellence, Murray State University, 2013
Mayers Fellow, Huntington Library, San Marino, CA
Leadership and Service
Chair, Murray Shakespeare Festival
Professional Memberships and Affiliations
Modern Language Association
Renaissance Society of America
Screen Actors Guild
Shakespeare Association of America
South Atlantic Modern Language Association
In the Media
At the WKMS studios, Dr. Cobb and Dr. Rusty Jones talk about some of the more interesting elements of Shakespeare's comedy Twelfth Night and John Webster's gripping tragedy The Duchess of Malfi in this segment called "Werewolves, Cross-Dressing and a Singing Fool."
In a movie opening this fall titled "Anonymous", director Roland Emmerich takes on a theory that Shakespeare did not, in fact, write the works that have endured for four centuries. Listen to Dr. Jones discuss fact versus Hollywood with local NPR member station WKMS.